8 November, 1998
Sunday, November 8, 1998
Hi! Today I got up early to take a shuttle out to the ice runway and photograph a C-5 Galaxy landing in McMurdo, bringing in some much needed cargo as well as 73 passengers from Christchurch, New Zealand. Fabio and I had heard that the plane was supposed to land at around 8:00 AM, so we took the 7:30 AM shuttle. It's so convenient around here…there are shuttles that go everywhere...well, there aren't THAT many places to go, but they are accessible. Our shuttle driver works in Denali National Park in the summer and down in McMurdo in the winter. A lot of folks here are from Alaska…must like that COLD weather.
The plane came into view not long after we got off of the shuttle…perfect timing. It was a really cool thing to watch. I was surprised that they landed it, given the poor visibility…but they do need to move some of the cargo that's been stuck in Christchurch. The Galaxy is the biggest of the cargo planes, and they usually don't use many of them for these flights. They are heavy and it puts some stress and strain on the ice runway having them land. This landing was perfect…smooth. The plane did not take as long as I thought it would to come to a comlete stop. Once it did, they quickly manuevered it around 180 degrees, and then it taxied closer to the "airport" (if you can call it that!) It's a collection of trailers. The plane was turned again, to face McMurdo.
I had no idea how big the C-5 was until I saw it near the C-130 Hercules planes that were lined up on the ice. They were dwarfed by the Galaxy! I will try to find out some good information to send you about this plane. I just know it was a whopper! Fabio and I walked over to get a closer look. To unload the people and cargo they use the FRONT of the plane. A part of the nose folds up over the cockpit and a ramp slides down to make it easier for people and vehicles to get off the plane. Cargo was clearly visible…lots of it. We were lucky to be able to meet Dr. Ken Verosub, my principal investigator and the scientist I am officially assigned to for the Cape Roberts Project. He had been on a "boomerang" flight (one that goes part way and is unable to land…it gets turned back to Christchurch) yesterday that got back into Christchurch at 1:00 AM. Ken said that the Galaxy was actually more comfortable because it had regular plane seats with room in between. The one thing he did say was strange is that the seats were facing backward on the plane. Ken told us at lunch that as the plane landed, he had no sense of what direction they were going...you couldn't really tell. No wonder when you see how big this plane is. I didn't have my digital camera (it was back at the lab), but I did take a number of slides of the landing and the plane itself that I can share in presentations when I return.
Fabio and I took the shuttle back to Mactown, and both of us went back to our dorms to sleep. I got up around noon and spent the REST of the day at the computer in Crary Lab. I took a short break for dinner, and now it's 10:45 PM. I have been working ALL day. Thanks to all of you who have written to me and asked so many great questions. I look forward to checking my e-mail each day…you are keeping me very busy! For once I am caught up on journals (it was tough after being out of town for "Happy Camper" school). I have TONS of digital photos to send you and I hope that I can work on the slide show part of my homepage tomorrow.
I want to thank Ben Hasse, who is here with the Antarctic Scouts program. Each year one Boy or Girl Scout is chosen to come to Antarctica and spend months working alongside scientists on projects and experiencing all that the continent has to offer. They travel around more than most people here…visiting remote sites and South Pole Station. Ben attends Purdue University in Indiana, and he applied for this program last year. It is quite an honor to be selected! He is making the most of his time here and is very friendly. He has been a HUGE support to me in the computer lab…he's a whiz at computer stuff, and often he has really saved the day for me. Thanks, Ben!
Talk to you all tomorrow.
Betty :)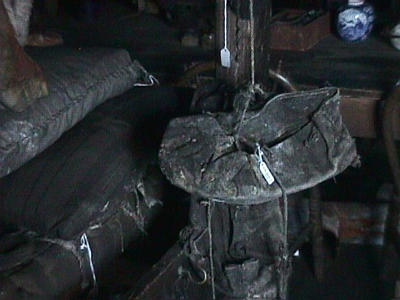 This shoe, was still hanging on the post of a bunk bed. It's amazing how well things are preserved in the cold, dry climate of Antarctica.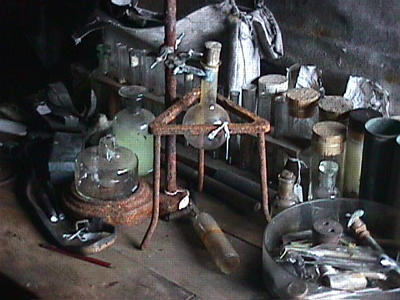 In case you haven't figured it out...this science equipment is NOT from Crary Lab in McMurdo. I am still showing you photos of Robert Scott's hut.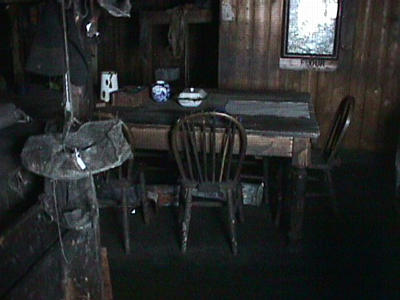 This is one end of the LONG table used by Scott and his men. I can still remember one of the famous photographs of Robert Scott and his men, sitting around this table, celebrating Scott's last birthday in 1911.
---
Contact the TEA in the field at .
If you cannot connect through your browser, copy the TEA's e-mail address in the "To:" line of your favorite e-mail package.