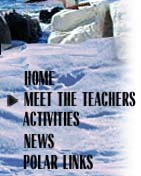 2 January, 2000
Hello all,
I arrived in Punta Arenas, Chile this afternoon after what seemed like an incredibly long flight from Santiago. Maybe it just seems that way because the plane was a small and packed. I met up with many of my team members at the Santiago airport. Maria Vernet, the chief scientist for the LTER cruise at Palmer had just arrived from Miami. Her luggage did not! Oh boy! Polly Penhale ,Wendy, Veronica and Megan (sorry I haven't learned their last names yet) were all at the airport as well. We were picked up and shuttle to the ship by the nice folks from AGUNSA. As I traveled to the ship I kept pinching myself! Partly, so I would wake up (I was so beat), but mostly because I couldn't believe I was at the city at the end of the world! We got loaded on the boat and didn't need to sleep in a hotel. That was a nice treat! My roommate in Karin Bjorkman. She is heading a team for Dave Karl from Hawaii. This is going to be great. I can't wait to share this adventure with you. More tomorrow!
-Mimi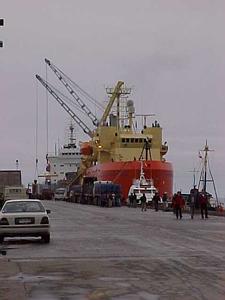 Here is the research vessel Laurence M. Gould at the dock in Punta Arenas, Chile. It is being loaded with people and supplies for the trip to Antarctica.
---
Contact the TEA in the field at .
If you cannot connect through your browser, copy the TEA's e-mail address in the "To:" line of your favorite e-mail package.