21 January, 2000
Greetings everyone!
Safety awareness and training was evident all over station. In an environment such as Antarctica, safety is always forefront in everyone's mind. While on my commute to the BioLab, I passed by several ASA employees parcticipating in Search And Rescue (SAR) training. They were geared up to learn how to climb down into a crevasse. Their training ground was off the side of the boardwalk; a drop of about 15 feet! Later in the afternoon, there was an unannounced fire drill. As soon as I heard the loud alarm I headed for the boat house. Once there, roll call is taken and everyone is accounted for. Even though it is was only a drill, it certainly got everyone's attention. It is understood that a fire at Palmer Station could be disastrous.
The weather today shut down all out-going activities. Gusty winds at 25+ knots,and ocean surges made it too perilous to venture out. As a matter of fact, even walking from building to building was sometimes difficult! I would have been blown off the boardwalk if it wasn't for the railings! Consequently, I stayed in and got a lot done in the
lab. I have started to prepare some of my Antarctic "collectibles" for transport back to the states. And I corresponded with a couple of schools interested in the "Adopt a Penguin" project I mention in my 18Jan journal entry. It is exciting to see several schools eager to parcticipate in the penguin research. In spite of the wind, a round of steaks was cooked outside on the grill. Corn on the cob, black-eyed peas and fruit cobbler completed the meal. One thing I can say
without a doubt,the folks here eat well!
There was another science talk tonight. Charles "Buck" Wilson discussed the work he and his team are doing with the Comprehensive Nuclear Test Ban Treaty. Around here we call it "CTBT" for short.
His team includes Dan Osborne and Kay Lawson. They are all from the Geophysical Institute at the University of Alaska, in Fairbanks. They have set up 4 test array sites on various islands in the Palmer area. Each array is designed to pick up ultra-low frequencies given off
from a nuclear detonation. Underground nuclear testing can be detected using sensitive infrasonic microphones. They can pick up the signature infrasonic soundwave of a nuclear detonation from anywhere in the world. The strategic positioning of these array allow the CTBT team to measure the difference in the signal arrival time, called triangulation. This allows them to pinpoint the point of origin for the infrasonic soundwave. There are approximately 60 similar arrays throughout the world. This is only one way the treaty signatories monitor the nuclear "behavior" of each other.
One other thing. Remember the leopard seal I mentioned a couple of days ago? Well, the next morning, it was discovered that the port of our boat had been deflated! It seems that a couple of canine puncture marks were found in one of the cone-shaped ends. Hmmmmm? Makes you wonder if that same leopard seal didn't followed us to the boat dock after all.
There has been a little trouble with the posting of pictures and journal entries. Thanks for your patience and for following along.
Until tomorrow...
Mimi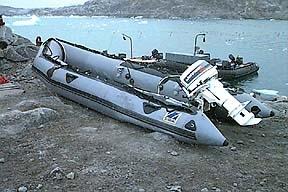 The cone-shaped ends of the zodiac are vulnerable areas. Two canine teeth marks indicate this boat was chew toy for a leopard seal! Photo by Doug Quin.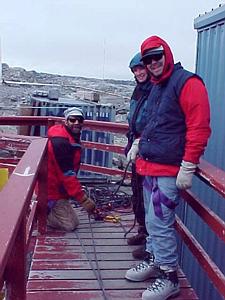 Will Silva (the station physician), Lora Folger, and Andy Sutton parcticipate in SAR training.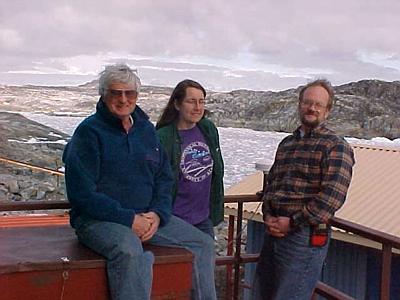 Charles "Buck" Wilson, Kay Lawson and Dan Osborne make up the CTBT team.
---
Contact the TEA in the field at .
If you cannot connect through your browser, copy the TEA's e-mail address in the "To:" line of your favorite e-mail package.