19 July, 2001
The Key Ingredient to Success
It started right away, the moment the plane landed. Something was happening I just didnít expect. I was caught off guard for a few moments, and thought the mood might pass after the initial excitement of our arrival here. Itís now been three days here and I keep seeing more evidence of something that doesn't happen as often in my other world. Teamwork.
Maybe itís the remoteness of the place, or the cold. Maybe itís just the type of person who signs up to come to these places. Whatever the reason, I am very impressed by how the twenty or so people here behave. It started right away on the first afternoon. We had tents to set up - they are called Arctic ovens - not your usual tents. I fully expected I was facing my first challenge, and so set off to do it myself. Next thing I knew, there were three others there helping me to lay it out, put the poles in the right places, set the tarp and pound in the stakes. A process that might have taken me an hour alone took the group ten minutes and was infinitely more fun.
There are two groups of people here in this camp. The people that live here all summer and make the place run - the VECO staff, and the scientists who come here to work for periods of time varying from two days to four months. These two groups must constantly work together for a common mission, science. From building a tower or a trench, to off loading equipment from a plane or just cleaning up around the main building, teamwork keeps the place moving.
Additionally, each group also has its separate missions - science projects and construction projects. Throughout, coordination happens between these two fields. Since the construction equipment contributes emissions to the air we are testing we have to be aware of their work zones and the wind direction. The scientists have to be careful not to blunder in front of the equipment or to set up their experiments up in places that may be trafficked by snowmobiles or tractors. The construction and maintenence crew must choose their work hours and locations so as not to disturb some of the delicate instruments and measurements. In addition, the VECO camp staff help move and set up and store the enormous amounts of equipement and supplies that the scientists need for their work. It is interdependence at itís best.
Yesterday, I was really impressed by a series of events that unfolded throughout the day. Two young scientists had struggled all day their first day here to make one of their instruments behave (send data)... As the second day wore on I became increasingly aware of their frustration. They had flown here from Michigan for three days to repair their instrument. This instrument measures magnetic fields around the earth. It is placed two miles away from the camp. These ladies had to suit up in all their cold weather gear, load a snowmobile and a sled with their tools and drive the two miles into the white distance to locate their buried instrument. On the first day they were able to locate it and dig it up. I wasn't working. The second day they drove out to the site, set up a tent work in and tried to trouble shoot. By lunchtime they were worn out and at witís end. As we gathered for lunch, I overheard some discussions of their travails. Quietly, others in the dining area also were tuning in and by the end of the lunch a team of VECO mechanics, electricians and other more experienced scientists were all offering their ideas and even tools. By 2 pm a team of five had assembled for one last effort to make the stubborn box work. Off they went into the snow complete with soldering iron, generators, new digital thermometers to make temperature checks of the instrument, and of course a thermos of hot cocoa. In all, three snowmobiles full of people dropped what they were doing and leant a hand. (I had to sty back to finish my experiments but was dying to go along and see)
At dinner, four hours later, everyone was wearing smiles of success. The instrument had simply shut off because it was too cold. A little heat from the heat gun, and it was up and running. The scientists could re- bury it in its heated box and return to Michigan on the plane today. Mission accomplished! Teamwork at its finest!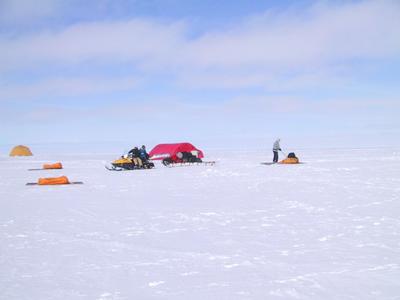 Our gear and tents arrive by snowmobile. We are conserving energy because of the high altitude.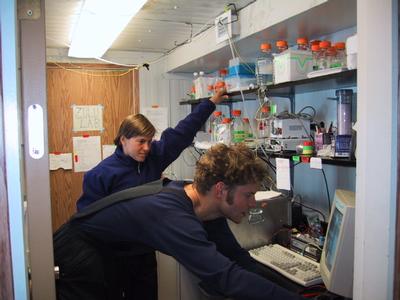 Markus is showing me how to run the datalogger program in the chem lab.
---
Contact the TEA in the field at .
If you cannot connect through your browser, copy the TEA's e-mail address in the "To:" line of your favorite e-mail package.