13 August, 2001
Packing and more packing...
After yesterdays' last minute rush for more data I thought we might never be finished and ready by this morning's 8:30 am packing deadline for science cargo.... I am not sure, but I have strong suspicions that Markus and Manuel may have been up all night, for when I went to bed at 1:30 am this morning, there was still much that needed to be done. However, after I finished breakfast at 8:30 this morning and began to trek out to the science trench, Markus and Manuel were carrying full boxes from the trench to the pallet to be loaded. Somehow, all the gear was packed and ready for the trip home. All that was left was to help prepare for the winter over. This meant cleaning out the labs in the greenhouse and the science trench, inventorying what will be left here and photocopying our data. Manuel spent part of the day moving his air intake lines to new locations higher above the snow surface in preparation for the winter snow fall accumulations. With one day left at camp time seemed to slow down. I can't believe we will be leaving tomorrow, there's still so much fun to have!
After dinner we had time for a game of, yes, golf. Five of us played a game of golf using the buildings and objects around camp, such as the trash bin and fuel bladders as targets. It was hilarious watching the brightly colored balls fly over the snow. We also skied and played in the snow until the wee hours of the morning, even though we had to have our bags packed and tents down by 8:30. Tomorrow we'll complete the packing process and say good-bye to the winter over crew. Hard to believe that in 48 hours we'll be back in the states and for me, in the heat of Phoenix.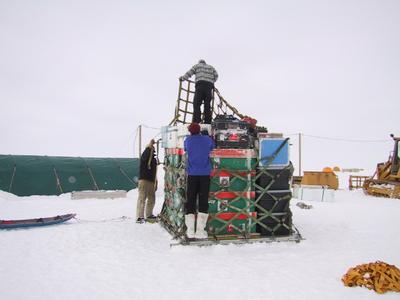 Packing the science cargo pallet. Samples and equipment are loaded and ready to go.

The science technicians, Amy and Kim will take over for the rest of the winter. They are looking happy and well prepared for the cold.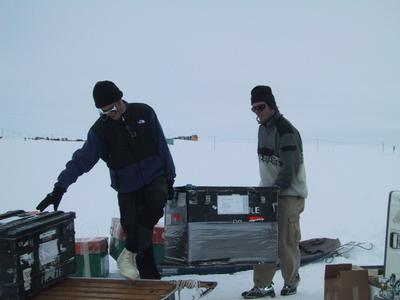 Manuel helping Markus carry the instruments from the science trench.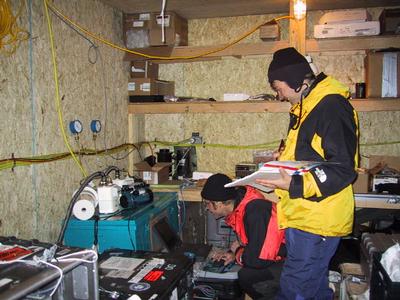 Manuel tells Markus its time to quit!
---
Contact the TEA in the field at .
If you cannot connect through your browser, copy the TEA's e-mail address in the "To:" line of your favorite e-mail package.