2 November, 2002
Tonight we are in McMurdo.
As I write this journal it is 9 pm and the sun is low in the sky out of the window in Crary lab. This journal will be short since I am getting tired from the long day of travel and excitement. We started at 7 am with breakfast in New Zealand, and arrived here at 7pm. The day included dressing in all the ECW gear for the travel. A final weigh in was next, which we all passed with no problems! Once we recieved our boarding cards we had a safety briefing. Once that was over, all 66 passengers squeased on to the plane with our sack lunches in hand. I sat across the isle from Jim and Dan. It was impossible to find any room for our feet in the giant blue boots, since Jim wears a size 14 shoe.
After take off everyone struggled to get more comfortable for the long flight. As the cabin temperature rose, we shed our warm parkas and boots. The aircraft was so noisy that everyone wore earplugs, limiting the entertainment to reading or sleeping for the duration. After about 4 hours we knew we were past the point of safe return and would be going to Antarctica for sure. It was an exciting moment.
On the ground (ice) in Antarctica we posed for several pictures in front of Ivan the Terra Bus, but were told we had to rush, so that we would make dinner. Tonight is also the annual Halloween bash and everyone who has been here for more than a day is getting prepared for the big event! More briefings, and we were issued our room keys to the dorms. We wandered off to dinner, still in our big boots and parkas. At the dining hall the halloween spirits began to emerge. How very odd it was to be in such a foreign place, jet lagged from the travel and to see a guy dressed in a white bunny suit getting Orange juice or a Dracula helping himself to a cup of coffee.
It's great to finally be here,now to figure out how to get some work done!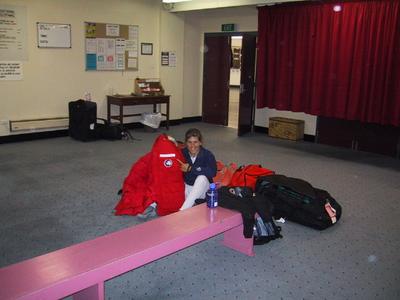 Here I am sitting in the changing room after trying on all my new gear.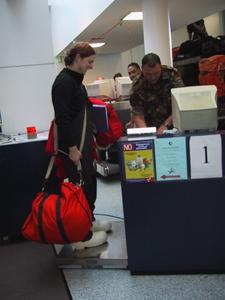 making weigh in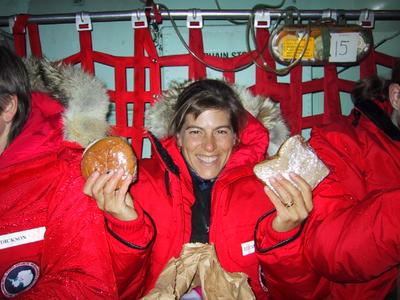 On board with our sandwiches!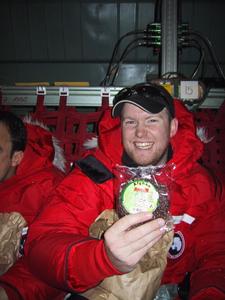 Jim's found his cookie.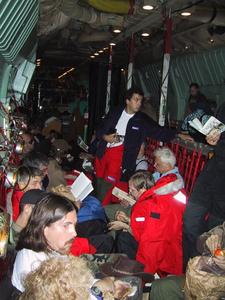 Squeezed in the 141.
---
Contact the TEA in the field at .
If you cannot connect through your browser, copy the TEA's e-mail address in the "To:" line of your favorite e-mail package.