ARMADA News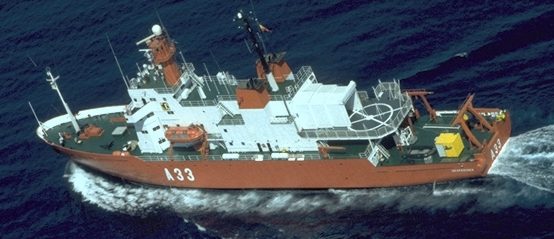 Spanish Icebreaker Hesperides
International Collaboration in the Arctic is Focus of Five ARMADA Project Research Experiences
Five of this year's fourteen U.S. teachers who are participants in the final year of the University of Rhode Island's National Science Foundation-funded ARMADA Project are joining foreign research vessels in the Arctic for the research experience portion of their ARMADA Project involvement.
Megan O'Neill, a high school science teacher from Fairhope, Alabama, has joined ARMADA host researcher marine geologist Angelo Camerlenghi from the University of Barcelona and Catalina Sureda, a teacher from Barcelona, Spain, aboard the Spanish Icebreaker HESPERIDES. The 20-day cruise left Svalbard on July 29 headed southwest of the Svalbard Islands to study the area's geologic past and the consequences of climate change in the Arctic. Communications aboard the HESPERIDES allow for O'Neill to transmit regular journals. With classes beginning in Alabama on August 9, O'Neill's journals and photos will allow her students to follow the expedition. She will also utilize the satellite phone provided by VECO to arrange conversations and Q&A sessions directly with her classroom.
Caitlin Munroe is currently aboard the Canadian Icebreaker AMUNDSEN that sailed from Quebec on July 27 and is travaling up the Labrador Coast, into Ungava Bay, and scheduled to arrive in Churchill on Hudson's Bay on August 16 (sail plan as a PDF). Host researcher and Chief Scientist David Barber from University of Manitoba and his ArcticNet team are collecting data  that will help them begin to uncover answers to both physical and biological mysteries of how and why climate changes are affecting everything from the tiniest algae particles to fish stocks, large mammals such as seals and polar bears and ultimately, people. In preparation for the AMUNDSEN cruise, Sarah Wade, a science teacher from Gjoa Haven, Nunavut, Canada, who participated in a similar cruise in 2006, joined Munroe and this year's ARMADA teachers at a week-long training workshop in Rhode Island in June. Collaboration between Munroe's school in Colorado, with has a high Native American population, and Wade's school, with a primarily Inuit population, will continue throughout the coming school year. Read more about the AMUDSEN cruise.
Two other ARMADA teachers have completed their research experiences in the Arctic aboard foreign research vessels. Jan Helge from University of Bergen was ARMADA host researcher for Christine Kirch, a high school science teacher from West Warwick, RI, who just completed a two-week cruise aboard the Norwegian research vessel, G.O. SARS. A Norwegian school teacher also participated. The expedition to Mohn's Ridge in the Greenland Sea explored life in extreme environments near hydrothermal vents and cold seeps using ROVs.  In late May, Kathy Couchon, a high school science teacher from Narragansett, RI, sailed aboard the Swedish Icebreaker ODEN for a AUV Engineering Trial in Fram Strait in support of the ODEN's current Gakkel Ridge Expedition. Couchon and her host researcher, Chief Scientist Rob Reves-Sohn from Woods Hole Oceanographic Institution, were joined aboard the ODEN by Deitmar Gruber, a science teacher from Karlsruhe, Germany. Couchon provided photos, video, and other background information to Chris Linder and Susan Humphris at Woods Hole Oceanographic Institution to support the NSF-funded "Live from the Poles" program that will feature a live audio connection for the public from the Museum of Science in Boston to the ODEN on Wednesday, August 8.
In October, Jason Pavlich, a high school science teacher from Red Hook, New York, will join the Canadian Three Oceans (C3O) expedition as it attempts to obtain a snapshot of large-scale ocean and ecosystem properties, and thus establish a scientific basis for sustained monitoring of Canada's Sub-Arctic and Arctic sea in the wake of global warming. Pavlich will join ARMADA host researcher and Chief Scientist Eddy Carmack from the Department of Fisheries and Oceans in British Columbia, Canada, and Linda Hall, a teacher from Victoria, B.C., Canada, for the cruise from Kugluktuk to Resolute aboard the Canadian icebreaker, ST-LAURENT. This PDF has more information about the Three Oceans (C3O) expedition. Classes of Pavlich and Hall will begin regular communication with the start of the fall school year.
In its fifth and final year, the ARMADA Project, funded by the National Science Foundation, provides U.S. K-12 teachers an opportunity to actively participate in ocean, polar, and environmental science research and peer mentoring and are partnered with U.S. and international research teams. Master Teachers develop ways to bring the fruits of their research experiences, including scientific data, methodologies, and technology into their classrooms. They share their experience by mentoring new teachers in their school district and by presenting their results at National Science Teachers Association National Conventions and other science and education meetings. Prior to embarking on their research project, ARMADA Master Teachers participate in an intense training workshop that encompasses standards-based pedagogies, mentoring and coaching strategies, and investigations of ocean science content and resources.
---