1 November, 2001
Nov 1st - The Journey Begins!
Today is the beginning of my great Antarctic adventure! I am very excited but nervous as well. The past month and a half has been hard for everyone. I feel uneasy about being out of contact with our country for six weeks. Thank goodness for the Internet. I should be able to check the news and receive emails everyday.
Our lives are very different as a result of Sept. 11th. I won't dwell further on this, but I feel the need to make mention of those who lost their lives and loved ones, and of the people in the Armed Forces who are working so hard and risking their lives to protect our wonderful country. May there be peace in this world.
With that said, I will now begin my journey to Antarctica. I will be flying for the next day and a half! I'll arrive in Christchurch, New Zealand on Nov. 3rd (assuming all of my flights are on time). Once there, I will have two days to get used to the time difference and get my Extreme Cold Weather Gear. Then on Mon. Nov. 3rd if the weather is right, I'll fly to Antarctica! It's hard to believe it's almost here! I can't wait to step foot on the icy continent!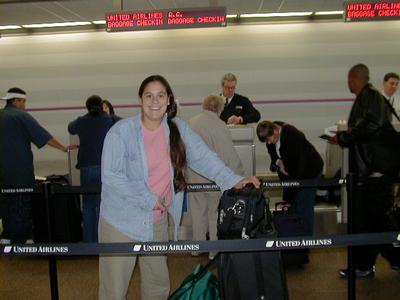 The first of many airports to come!
---
Contact the TEA in the field at .
If you cannot connect through your browser, copy the TEA's e-mail address in the "To:" line of your favorite e-mail package.