20 March, 2001
Day 3 After the drive from Anchorage to Seward, it was time to spend the day at the Anchorage Museum of History and Art. This museum tells the story of the peopling of Alaska. I saw wonderful art works, Native sculpture, photographs etc. of the history of many people. Alaska, the 49th state has been called the "Last Frontier." There are many stories of the different Eskimo Tribes (Tlingit/Haida, Athapaskan, Aleut, Inupiaq and Yupik). Alaska also had a great Gold Rush in 1880. There is a great deal of Russian influence because Siberia is so close across the Bering Strait. And the natural resources of the state are immense. I could go on and on, but I think a little at a time would be better.
A 13-year-old Aleut boy entered a design contest in 1926 to design a flag. He drew seven stars of the Big Dipper and the North Star in gold on a dark blue background. His design remains today as the flag of Alaska.
Before traveling on to Fairbanks I thought it would be necessary to sample the food of Anchorage. Rockfish, and of course salmon were awesome. Alaska certainly has it with restaurants!!!!!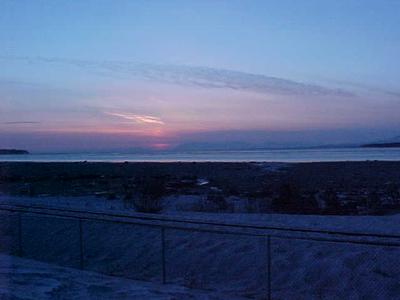 This picture was taken in Anchorage just as the sun went down over the Bay in Anchorage

The last from the museum is of Whale, another central figure in the spiritual world of the Native People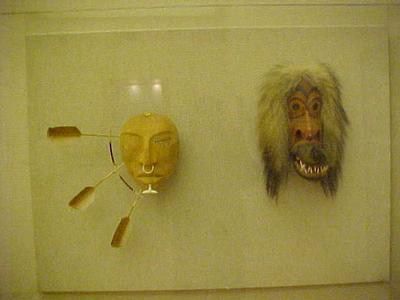 Example of Yupik Mask.
---
Contact the TEA in the field at .
If you cannot connect through your browser, copy the TEA's e-mail address in the "To:" line of your favorite e-mail package.