21 March, 2001
My reason for traveling to Fairbanks was to meet Dr. Roger Harritt (my principal investigator or PI as we call it in TEA terms), from the University of Alaska, Anchorage. It was very exciting to meet Roger. I learned a lot about the upcoming summer dig, as well as about the native people of Alaska. We were also there to attend to 28th Annual Meeting of the Alaska Anthropological Association. There were many presentations of papers on a wide range of archaeological/anthropological studies. I was interested in "Revisiting the Thule Culture: Its Origins (A.D. 1000-1600), Interrelationships and Fate." There were a few presentations of this subject. Another presentation I enjoyed a lot was Pictograph Cave in Southeast Alaska: Expanding Our Cultural Understanding of the Rock Art. This paper was written by Terry Fifield, George Poetschat, and James, Keyser. There were many other fascinating presentations. Speakers from the Athabascan Tribe were on hand for presentations also. One final note on the conference, I was able to spend a great deal of money on building a library for my class and myself.
The Athabascan Indians live in the interior region of Alaska. They were nomadic at one time and followed caribou, moose, and other land animals. There culture includes many distinct languages. There is an important presence today in playing a vital role in Alaskan society.
The Northern Alaskan Eskimo people are the Inupiats. They speak the Inupiat language and are spread from Greenland all the way to the Bering Strait. Once again, the dig will be right on the Bering Strait, in Wales Alaska.
I was very fortunate to be in Fairbanks for the World Champion Ice Carving competition. There were approximately 40 carvings. I went at night to view them because behind all of the carvings are colored lights shining through the ice to make a spectacular display. There were such scenes as Snow White and the Seven Dwarfs, a true to size helicopter with its crew, football players, trains, and much more. They were really incredible even though it was -10 F. when I walked around (or trotted quickly). I also got to see the Northern Lights one night.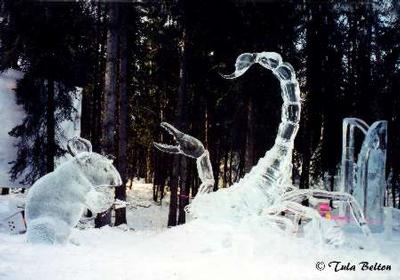 This was my favorite of the scorpion.
---
Contact the TEA in the field at .
If you cannot connect through your browser, copy the TEA's e-mail address in the "To:" line of your favorite e-mail package.