9 July, 2002



I worked over at tel. 026 N Beach ridge today. This is a test site.
Last year John did what is known as a shovel test. You did a small
circle approximately a shove deep into the ground. If you find
samples, there is a chance you may be on a good site for
excavation..John did find some faunal (bones) and a few artifacts. As
a result of the find a test site was set up for this year. The site is 
four units. Remember, a unit is a square meter. Because we have no
prior record of this area, we have no contour map and elevation levels 
to research. So, we excavate in twenty centimeters increments.
So far the soil is very sandy and loose, but as we get down
approximately 15 cm., the sand is changing in color and is becoming
very compacted.





In the afternoon, I started my first interview. Part of my reason for
being here this summer is to conduct oral histories of the elders in
the village of Wales, Alaska. But, I am not actually doing the
interviews. I have four students from the Butterfield School, in
Orange, MA conducting the interviews. Two of the students were my
students from last year and two others were from Mrs. Holmes, and 
Mrs. Warren and Mrs. Koonz's fifth grade classroom. We met after
school for several weeks to arrive at questions to be asked. My
students, are Olive, Julia, Jill, and Chris.





We then contacted the Wales IRA office and with their help we
arranged to do the interviews. The students will be interviewing 
Faye, Pete, Winton, and one younger person, Victoria (she is working
with us this summer). The first interview went well. Julia 
interviewed Victoria. The information will be out in the near future.
The students will have to wait until I return to Orange, we will 
meet, listen to the tapes, and they will write up their story. They
are asking questions about their lives, Wales,and the culture here.
Should be extraordinary. I expect nothing but the best from these
students.





A busy day, in the afternoon, I was back over at tel. 079 for
excavating. We are starting on level two. This will take several days
and time goes fast. Better go......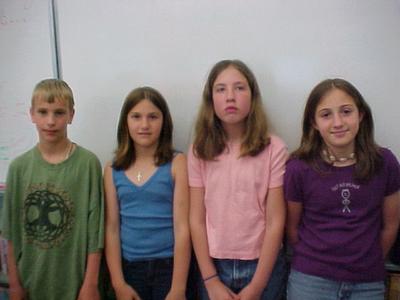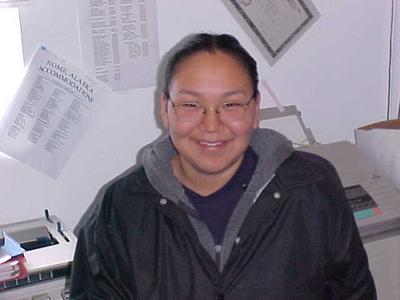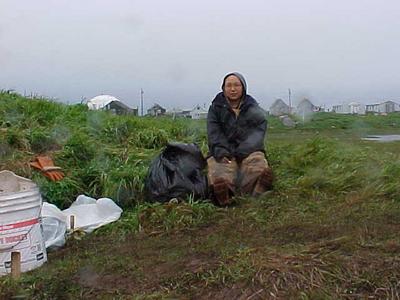 Victoria was interviewd by Olive. From left to right on the kids: Chris, Jill, Olive, and Julia. The interview was done at the IRA office on a confernece call. Victoria in the bottom picture is taking a breather at the mound.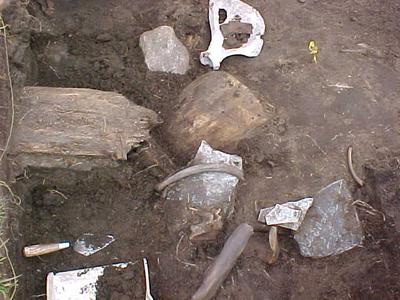 Here is example of a unit. A unit is one square meter. There is a lot going on in this unit. It will have to be drawn in on graph paper, and measured before anything can be taken out.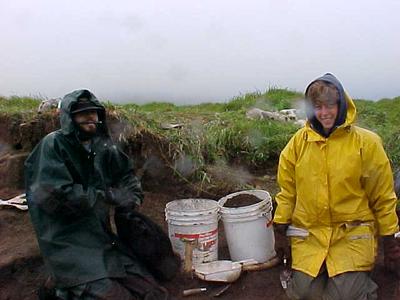 Jim and Amy are also taking a breather.
---
Contact the TEA in the field at .
If you cannot connect through your browser, copy the TEA's e-mail address in the "To:" line of your favorite e-mail package.