2 July, 2003
Back in Kotzebue
Today in Kotzebue
Landing in Kotzebue felt warmly familiar and strangely foreign at the same time. The frozen white tundra that I left behind me last April was replaced by a craggy green countryside sprinkled in vivid wild flowers and a buzz with countless mosquitoes.
The temperature is in the 50's and 60's most of the time. It is windy and we wear jackets when we go out. The wind is good because it drives the mosquitoes away; I've seen the despised creatures; they are about twice as big as our mosquitoes in Illinois. When we go out of town we will wear mosquito suits and hats with nets over our faces.


What Science Is Happening?
As we just arrived in town, we are making our preparations so that we can get to work. We have made connections with Alex Whiting, our liaison to the Kotzebue IRA, the tribal association. We also hooked up with elder and boat captain John Goodwin. We needed to purchase gas for the boat so that we can go out tomorrow. At $5.00 per gallon, gas is something that needs to be taken into account. We did the little things that you must do on any journey, unpacked, shopped for groceries, etc. Remembering how expensive food is here (a 6-pack of pop is $10), I packed a whole suitcase full. Unfortunately, my suitcase was one of the ones inspected and a few food item broke open when they repacked. Anyone car for diet coke covered in apple sauce and Kool-Aid?

Reflections
I'm very glad to be back. Kotzebue it a small village and everyone on the street waves at you as they pass. I'm excited to be finally getting down to work and hopeful that we will make a difference with our research.

Links
Learn more about our project here
View curriculum for this project, "Ask a Scientist" and learn about other Arctic Real Time research at Arctic Alive
City of Kotzebue Webpage
Listen to the local radio station KOTZ live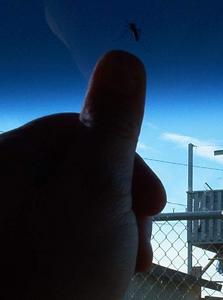 Look closely and you will see the mosquito on the outside of the windshield is as long as my thumb in wide.
---
Contact the TEA in the field at .
If you cannot connect through your browser, copy the TEA's e-mail address in the "To:" line of your favorite e-mail package.