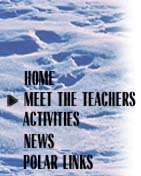 21 March, 2002
March 21, 2002
Hello from the North! After frantically getting lesson plans ready, grades exported, labs set up, computer equipment prepared (all batteries charged) and clothes packed, I finally began the first step toward a summer of field research and am now in Anchorage, Alaska.
Although I've only spent the day traveling, I thought of a way to think science (actually, a few ways). First - anyone ever hear of the biological theme: "Unity and Diversity"? Well, as I've spent many hours walking through airports or sitting on a plane, this thought kept popping into my head. Obviously, the unity is that there were humans everywhere - but it goes deeper than that. There were all types of Homo sapiens - young, old, male, female, races, attitudes, clothing styles, walks, talks, smiles, eyes, and more. Yes, diversity abounds. But, as I had the time to look a little more closely, what I saw over and over again was Homo sapien. Unity.
So, first question (yes, I have to be a teacher!): what is the source of the variation I've seen today and what is a possible explanation for the similarity that exists between all humans?
Now, a little on the physical sciences. I have been able to drive/fly through a variety of geographic areas. Mountain ranges, ocean waters, volcanoes, plains and deserts. In one day, I've driven in snow showers, flown over snow-covered mountains, through clouds and into the sunset. Lots of miles traveled! This leads me to the second question of the day - average speeds. I drove from Lewellen to Denver International Airport (210 miles) in 3 hours and 15 minutes. Flew from Denver to Seattle (1024 miles) in 2 hours and 50 minutes. Flew from Seattle to Anchorage (1448 miles) in 3 hours and 30
minutes. What was my average speed for each portion of my trip?
Since it is dark, I can't explain what environment I've landed in. Tomorrow, with the sun's light and my feet planted firmly on Alaska soil (snow), I will be ready to learn about winter in southern Alaska. Check back tomorrow for more - including answers to today's questions.
---
Contact the TEA in the field at .
If you cannot connect through your browser, copy the TEA's e-mail address in the "To:" line of your favorite e-mail package.