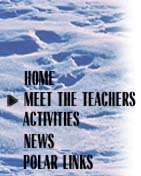 21 July, 2002
July 21, 2002
I am sitting in my tent, again, tonight as no flight out was possible today. I am not complaining (although a toilet with a seat and a door to keep mosquitoes out is sounding pretty nice!). I really had another good day.
I phoned the pilot this morning to see if any plans were made - he knew he couldn't make it out today, so at least I had my freedom back to leave the camp area and do some work (OK, play a little, too). By the time I was able to call, Rebecca and Yumiko had already headed out. I knew of two nests a pretty good distance north of here that needed a final check, so I decided to head that way. The day was sunny, warm and was blessed with a little breeze to keep the mosquito plague bearable most of the time. Again, there was very little bird activity in the area - mainly glaucus and sabien's gulls, arctic terns and loons. Birds are definitely more capable of leaving on time than I seem to be!
I planned the walk out so that I could eat lunch by a favorite lake of mine (E Azemichi) on the return. It was a great lunch - I sat on the shore ledge, breeze in my face, gulls jabbering above, and only a few mosquitoes to flavor my lunch with. I had eaten in that spot once early this summer. At that time, the lake was still mostly frozen, it was a completely calm day, and the water that was exposed was like a mirror. Although I believed then that it was so beautiful to see the reflection of the clouds on the icy water, I was thankful to see waves today! I do believe one thing I'll miss most after leaving here is lunch time. It is so relaxing to just find a place on the tundra - choose the view, the chair, the direction to face, and then be entertained by the animal activity surrounding you and the smells of the tundra passing by. I am sure lunches will never taste as good or be as fulfilling as they have been here.
After lunch, I returned to camp, grabbed the fishing pole and headed for Wyoming Creek. I fished from about 3:00-5:00 while I walked up and down the creek bank, and caught 3 grayling. The first one was just an OK size, the second was tiny, but the third was a real nice one. I laughed when I looked at them lying side-by-side after I cleaned them Š.. I called them a Rebecca fish, Yumiko fish, and a Kim fish, as their sizes fairly matched us! As Yumiko and Rebecca had a really long day, they were pretty happy to see the fish and eat them for supper. Grayling, with a little garlic and herb seasoned pasta and topped with arctichoke hearts, seemed to revive them! Again, knowing that I caught them and prepared them myself made the meal even more satisfying.
This brings me back to the same idea of changing perspectives. As I look at myself, I do believe I've gained some confidence in the ability to provide for myself. Things I thought were necessary now seem a little unimportant. Tasks that were once intimidating now seem almost natural. I believe the fact that I know I can learn new things, and that the things I can do are only limited by my fears and inexperience, has built my self-confidence level a little.
My perspective on the vastness of this area has also changed. Places, that at the beginning seemed far away and unfamiliar, now are places I feel are close by and comfortable. I only use the maps and GPS to find specific nests, but I now can identify lakes and marshes by sight. I have found myself wanting to always go just a little further - wondering what the next lake may look like, or where the next bend in the creek may lead. Strangely, all three of us have found that the simple act of wading across the creek - a boundary that originally limited us from areas we could only look at - changed our outlook. It was like gaining more freedom, and with it more excitement and hope for what else may be found in these new areas. I sometimes thought it was a little like when I was young and allowed, for the first time, to ride my bike across the street. Although I knew what it looked like, to finally be standing there, and now looking beyond that place, opened up even more possibilities. Here, there is one lake across the creek which I have been looking at all summer, saying I wanted to go and get a closer look. The last couple days have provided me with time to go and do so, but I've decided not to go. In a weird way, I want to leave that one area I have only looked at, as an area I still wonder about.
As things are winding down here, I've been trying to organize my thoughts and reflections, attempting to put into words the main lessons the tundra, and my group, have provided. Over the next couple days, I will attempt to share, in a coherent way, how maybe a couple of my personality weaknesses have been improved upon.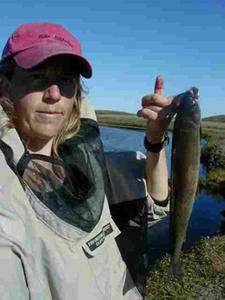 A picture of me with my "BIG" grayling!

This is a photo of a swan 'foot print'. Notice my foot beside it to get an idea of how large they are! (I wear a size 11 in women's)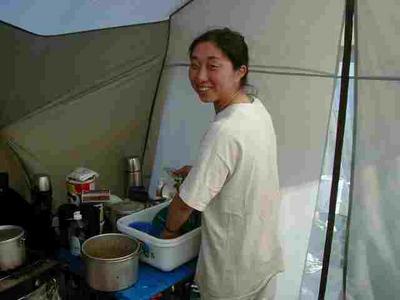 Yumiko did the dishes tonight - remember, I caught the fish and cooked it, too!!!
---
Contact the TEA in the field at .
If you cannot connect through your browser, copy the TEA's e-mail address in the "To:" line of your favorite e-mail package.