27 October, 1999
Christchurch, New Zealand Wednesday
ARRIVAL! After a long 12 hour flight from Los Angeles to Auckland on the North New Zealand island and a shorter 1 hour flight to Christchurch on the South Island, I have arrived tired but, very excited! The flight from Los Angeles was crowded with folks flying to Christchurch for deployment to Antarctica. I was surprised at the number of people! Everyone was so friendly and helpful!
A United States Antarctic Program representative met us at the airport and arranged transportation to our lodgings. I am staying at the Windsor, a bed and breakfast in the heart of Christchurch. The proprietor made us feel welcome, showed us to our rooms, and warned us about going straight to bed (it was only noon but we were exhausted from the trip and lack of sleep on the plane). I changed clothes and went for a walk through town stopping at the Arts Centre where local artisans have shops and studios for all sorts of art projects including doll-making, weaving, pottery, woodworking, and candy. The candy shop was my favorite place as the proprietress insisted that I try every flavor of fudge that she makes!
There was a Maori shop at the Arts Centre, as well. Maori are the indigenous peoples of New Zealand. Their name for the two islands that make up this country is "Aoteoroa" which means "Land of the long white cloud". Indeed, the sun shines but the sky is shrouded with a thin, misty veil. A question comes to mind...how did New Zealand get the name "New Zealand"? As Mr. Bouman asks, "Is there an Old Zealand?" The answer tomorrow!
I would like to stay awake and watch the sunset and see the Southern Cross but, my eyes are weak and I am beginning to make mistakes at crosswalks, a sure sign that it is time to retire. It is 6 p.m. I have been awake (with only 15 minute cat naps) for over 40 hours!
Sleepy in New Zealand,
Sharon
FOR KIDS ONLY!! Today I arrived in New Zealand. I was on an airplane from Los Angeles for 12 hours! Were you able to find New Zealand on a map? I am in Christchurch, the Gateway to Antarctica! Christchurch is on the South Island. Do you see it? What ocean is near Christchurch?
I spent some time this afternoon walking around Christchurch. It is a nice city with lots of history. I went to the Arts Centre where I saw pottery and weavings and some Maori art. Maori are the people who first lived in New Zealand much like our Native Americans in the United States. The Maori's gave New Zealand a beautiful name, Aotearoa. This means "land of the long white cloud". How did New Zealand get the name "New Zealand"? Is there an "Old Zealand"?
It is 6 p.m. and I have been up for a very long time. I want to stay awake to see the sunset and to observe the Southern Cross but, I think that will have to wait until tomorrow night!
Goodnight,
Sharon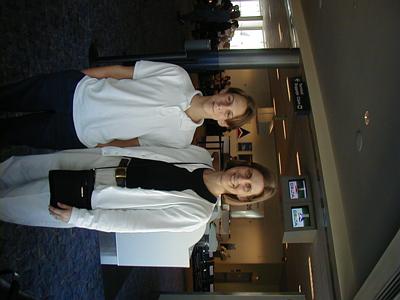 At the airport saying goodbye. Eight weeks is a very long time! <>
---
Contact the TEA in the field at .
If you cannot connect through your browser, copy the TEA's e-mail address in the "To:" line of your favorite e-mail package.