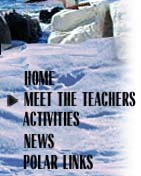 28 October, 1999
Busy day today! I was scheduled for orientation and clothing distribution today so after a hearty breakfast of poached eggs and bacon, I headed to the Antarctic Centre (specifically, the Clothing Distribution Center or CDC) with several other folks waiting to get to the ice. We had a brief orientation and then were sent to dressing rooms where we found two orange duffel bags complete with our names and filled to capacity with clothing! It took us two hours to try everything on! It is necessary to have the clothing fit properly. If the clothing is too loose, the ability to insulate is reduced and if the clothing is too tight, you can restrict blood flow. In the end, I was issued expedition and light weight underdrawers and tops (long underwear, in other words), 6 pairs of wool socks, fleece pants and a fleece jacket, wind overalls, a parka, a lighter weight coat (both coats have name tags on them), 3 hats, mitten liners, 2 kinds of leather mittens, gauntlets (a huge, fur mitten), glove liners, 3 pairs of gloves, a neck gaiter, a water bottle, snow goggles, and bunny boots (large white boots that weigh a lot but keep your feet warm and dry). When I leave for the ice, I will wear much of this Extreme Cold Weather (ECW) gear. The rest will be packed into one of the duffel bags. I am permitted to carry one of the duffel bags with me. The other will be in the cargo hold of the plane and inaccessible. I am also permitted to stow another of my own suitcases however, the combined weight of the two stowed bags cannot exceed 75 pounds. I'll have to leave a few bags of M&M's behind!
After completing this task, I toured the International Antarctic Centre. This museum explains everything there is to know about Antarctica including current research being conducted there, primarily at Scott Base, a New Zealand research station. The museum even has a room where you can experience the cold, snow, and wind common to Antarctica! They provide coats and boots for you before entering the room!
In the evening, I took a bus, with two fellows from a McMurdo welding crew, to Sumner, an area of Christchurch that is located on the Pacific Ocean. It was beautiful! We walked along the beach (it was breezy and quite chilly) and had hot chocolate in a beachfront establishment. Back in Christchurch, we met with the rest of the welding crew for games of pool and drinks at a local pub, Bailie's. These fellows are scheduled to deploy tomorrow. There are many people waiting in Christchurch at this time, hoping that the flights into McMurdo are not delayed. The hotels are packed! I was also scheduled to deploy tomorrow (earlier than I thought) and asked to wait until the rest of my team arrives. They gave me the OK and so have rescheduled my deployment for Monday, Nov. 1.
Cloudy night...unable to do any stargazing! We did pull out a compass, attempting to get our bearings. The needle would not stay on the "SOUTH" (in the USA, a compass needle would point to "NORTH"). Why would the needle not point directly to "SOUTH" on the compass?
As I said earlier, there are many people waiting patiently to get to the ice and as a result, they are also waiting to use these computers! Until tomorrow, I'll leave you with the answer to yesterday's question. Mr. Bouman take note! New Zealand was named by the European credited with settling the country, for a Dutch city (The Netherlands) called Zealand. So, yes, there is an "OLD" Zealand though they do not use the term "old"!
Sharon
JUST FOR KIDS!!! Hello kids! Today I went to the CDC (Clothing Distribution Center) to get my ECW (Extreme Cold Weather) gear. They like to use initials, don't they? The ECW includes all sorts of items that will help me stay warm in the wind and cold of Antarctica. This is what they are lending to me: long underwear, a fleece jacket and fleece pants, 6 pairs of wool socks, wind overalls, a lightweight jacket, a heavy parka, 3 different hats, 3 pairs of mittens, 3 pairs of gloves, a neck gaiter (this can be pulled over my mouth and nose when it is really cold), big white boots called bunny boots, a water bottle, and snow goggles. It took me two hours to try all of it on and make sure that it fit properly. Clothes that do not fit properly will not insulate or might cut off the blood supply in parts of my body.
I toured the International Antarctic Centre, a museum all about Antarctica! They had pictures of penguins and stories about the kinds of scientific work that takes place in Antarctica. They even had a room where you could feel how cold and windy it gets in Antarctica! BBRRRRR!!!!!
Did you find the ocean near Christchurch? It is the Pacific Ocean! Good work! Your map reading skills are excellent! Were you able to find how New Zealand got it's name? A Dutch settler when he first saw this island country, was reminded of a city in his home country of The Netherlands (Holland). His city was called "Zealand" and so this new country became "New Zealand"!
The skies were too cloudy last night to look at the stars. Perhaps tonight I will get the chance!
I will be back tomorrow with more stories! Today's question is about sports. What sport is the most popular in New Zealand and what team is known all around the world?
Sharon

In front of the display of ECW gear. Persons <> deploying to Antarctica are given this clothing on loan.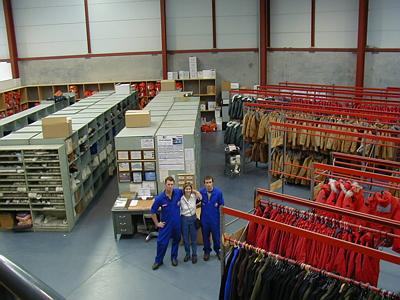 In the Clothing Distribution Warehouse. This warehouse provides clothing for all persons heading south! <>
---
Contact the TEA in the field at .
If you cannot connect through your browser, copy the TEA's e-mail address in the "To:" line of your favorite e-mail package.