29 October, 1999
Christchurch New Zealand Friday
"A straight line may be the shortest distance between two points, but it is by no means the most interesting." Dr. Who
The rest of my team arrived today! I was at the Antarctic Centre writing my journals and thought I'd check with the folks at the CDC (Clothing Distribution Center) to see when my team was scheduled to try on their ECW (Extreme Cold Weather) gear. There they were! Bess, Julie, Maite, and Mark had just arrived from their long flight. It was wonderful to see Bess and Julie again and to meet Maite and Mark. I stayed with them while they were fitted and then we headed back into town.
I spent much of the afternoon walking around Christchurch, taking in the very English architecture and gardens. It is Spring here. The temperatures have been cool and the skies are sunny but the ever present white clouds consistently hover. I talked with several other "southbound" folks. There are many support staff personnel, contractors, and scientists waiting patiently for the weather and planes to cooperate and get them to the ice. The group that was scheduled to deploy this morning awoke to the news that the flights were delayed 3 hours. Those 3 hours passed and they were told that the delay was now a 24 hour delay. You must be very patient when attempting to fly to Antarctica! There are two groups now scheduled to leave tomorrow morning at 4:15 a.m. and 7:15 a.m. We are all keeping our fingers crossed because if they are again delayed, then our flight on Monday will be jeopardized.
The question from yesterday addressed the inability of a compass needle to point directly at "SOUTH". The reason for this is because of the close proximity of the Magnetic South Pole. Your physics teachers should be able to explain this in more detail!
QUESTION (S) OF THE DAY: What does a full moon look like in the Southern Hemisphere compared to a full moon in the Northern Hemisphere?
The same word is used for the name of a New Zealand bird, a fruit, and the people of New Zealand. What is that word?
Stay tuned for more New Zealand trivia tomorrow! If you have any questions that you would like for me to address, send me an email message by clicking on "Send Mail To Sharon" at this web site!
Sharon
JUST FOR KIDS!!!!!!! Hello everyone! Are you anxious for me to get to Antarctica so that I can see penguins and tell you all about them? I am! There are many people here waiting for the best weather so that the planes can fly them to the "ice". This morning a group of people was supposed to leave but their flight was cancelled at the last minute. The weather in Antarctica was very windy and it would have been dangerous for them. They will try to leave tomorrow morning. I hope to leave New Zealand on Monday. Keep your fingers crossed for me!
The rest of my team arrived today! I was very excited to see them. Their names are Bess, Julie, Maite, and Mark. After such a long journey, they were very tired. I will spend time with them tomorrow.
Yesterday's question was about sports. How many of you knew that rugby is the most popular sport in New Zealand? The best rugby team are the ALL BLACKS.
TODAY"S QUESTIONS: What does a full moon look like here at the bottom of the world? Does it look the same as it would in the United States?
What one word is the name for a New Zealand fruit, a New Zealand bird, and the name used to describe the people who live here?
If you have any questions that you would like for me to answer, send me an email by clicking on "Send Mail To Sharon" at this web site! I would love to hear from you!
Sharon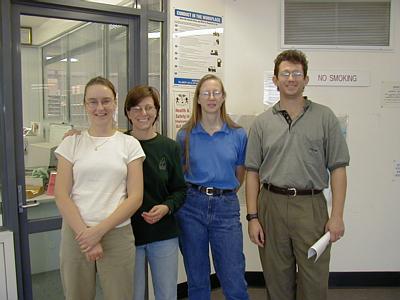 The arrival of my teammates! l-r Julie, Maite, Bess, and Mark <>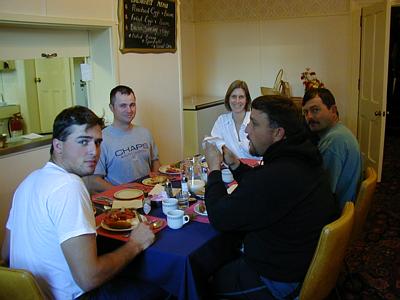 Making new friends at breakfast! These fellows are headed to McMurdo to construct diesel fuel storage tanks. l-r John, Shane, Sharon, Johnnie, and Shorty <>

The Bridge of Remembrance in Christchurch honoring those who served in the New Zealand armed forces during the wars of the 20th century. <>
---
Contact the TEA in the field at .
If you cannot connect through your browser, copy the TEA's e-mail address in the "To:" line of your favorite e-mail package.