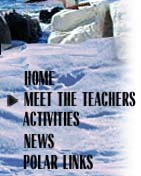 27 November, 1999
McMurdo Station, Ross Island, Antarctica
Saturday
"We have been the recipients of the choicest bounties of heaven." Abraham Lincoln, 1863
Today we celebrated Thanksgiving! After working all day, we arrived at the galley at our designated eating time of 6:00 p.m. So many McMurdo folks marked this occasion by dressing up! We, at least, wore clean clothes! Some of the fellows even sported ties for dinner! The dining areas were decorated with colorful leaves, giving the illusion of walking through an Eastern U.S. forest in October! The tables had tablecloths! Still, we stood in line and were herded cafeteria-style, to our Thanksgiving suppers! The food was delicious! There was turkey, roast beef, mashed potatoes, peas and carrots, corn, dressing, and, my favorite, Kentucky sweet potatoes! That's actually what they called them and they were so good! It is rumored that 1000 pounds of whole turkey were prepared for this event! There were many desserts. Mark loaded his plate with a variety and we ate bites of this and that! Of course, the big hit, was the pumpkin pie! Hats off to those who spent countless hours making our Thanksgiving meal memorable!
After supper, we walked to the coffee house and spent an enjoyable evening with a variety of friends. I brought my camera and captured a few moments. Perhaps you'll recognize a familiar face!
Tomorrow I will resume the Question of the Day and will profile an event in Antarctica's history.
Sharon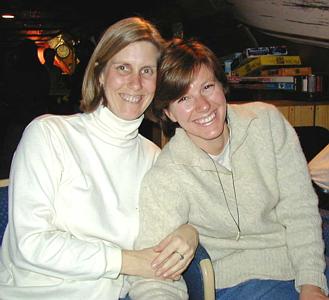 Sharon and Maite at the Coffee House. The Coffee House serves cappuccino and lattes and other fancy coffee's, as well as, wines.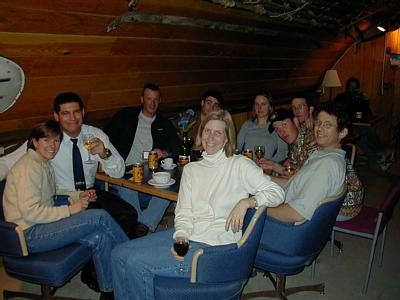 Our extended McMurdo "family" celebrating Thanksgiving at the Coffee House. The members of our family include, Maite, Carl, Paul, T.K., Julie, Nigel, Rodney, Mark, and Sharon. The gentleman, excluding Mark, are all members of the Kiwi Cargo crew (cargo-ologists).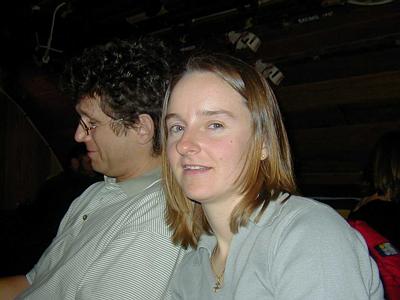 Julie, with Mark at the Coffee House.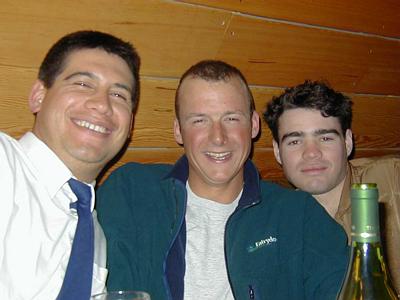 Kiwi "cargo-ologists". Carl is part of the New Zealand Air Force, Paul represents the New Zealand Army, and Nathan (T.K.) is a member of the New Zealand Navy.
---
Contact the TEA in the field at .
If you cannot connect through your browser, copy the TEA's e-mail address in the "To:" line of your favorite e-mail package.