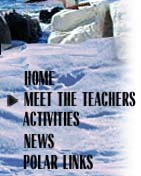 22 November, 1997
Hi Everyone,
Awoke once again to a beautiful morning. Temp. in the low 30's, bright and sunny - low wind. After packing up my sleeping gear and closing up the spare tent, in for breakfast. Breakfast is on you own here at the Lake Hoare camp. We had to rush along because the Helo pickup was at 8:30. We flew about 15 - 20 minutes up the valley to the Lake Bonnie camp. This small field camp was deserted. Kathy, Keith and myself (Kathy is my supervisor and Keith is from the "Stream Team" group) set up our sleeping gear in the tents already up. That was nice of somebody. Driving a tent stake into this permanently frozen soil is tough. You do the best you can and then cover the stakes with piles of rocks. You then place rocks inside the tent to prevent the high winds from blowing it away. After getting organized, we gassed up the 6 wheeler ATV and snowmobile and headed out. Keith, being from Wisconsin, took the snowmobile and Kathy and I had the ATV. What a trip. The lake ice was 9 feet thick but rough and cracked. Melt water from the glaciers had started to pond in the low spots. A little exciting to hit one and wonder how deep the open water was. Just getting wet in the high wind could be a life threating situation. Made it fine, collected our samples. Keith has a lot of samples and information to collect. Luckly we were able to help him. Returned to camp and fixed supper, a tough chore with limited water, and hit the tents. Not easy at 11:00 at night with bright sunshine. I'm OK everyone, doing fine. See ya
---
Contact the TEA in the field at .
If you cannot connect through your browser, copy the TEA's e-mail address in the "To:" line of your favorite e-mail package.