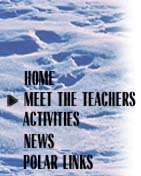 11 July, 2003
The continuous ringing of the general alarm bell provided some anxious moments very early this morning.  Apparently, for a brief period of time, a generator or two failed, which signaled the warning.  Whenever the alarm sounds, procedure requires all of us to head to the primary assembly area with our life jacket and survival suit in hand.  After everyone is accounted for, and once everything is squared away, we are allowed to go back to our stations or rooms.
After the night shift completes stations 13 and 14, the Palmer begins its run to the area north and east of Barrow.  In the meantime, Jim Swift (the Chief Scientist) gives everyone a brief overview of the project.  Although I still have much to learn about our work, Jim's presentation helps me see the "Big Picture" of our cruise. The region that we are studying is believed to hold the key to understanding the processes that control the exchange of the waters between the Arctic, Atlantic, and Pacific oceans.  You can read more under the project description on the front page of this website.
The day ends with as much excitement as it began, for around 8 pm, near 71 degrees north latitude, we encounter the ice. But that's not all.  We see walrus- lots of them- and a few seals too.  If there was any doubt, I know for certain now, that yes, this teacher is experiencing the Arctic.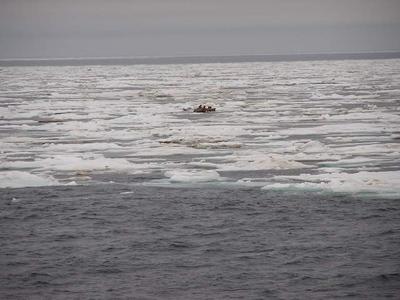 Group of walrus.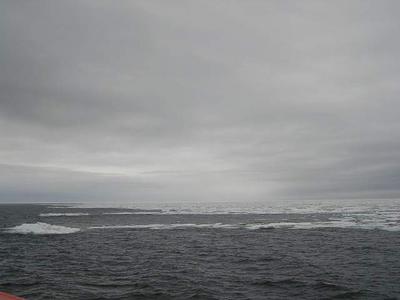 71 degrees north, we encounter the ice.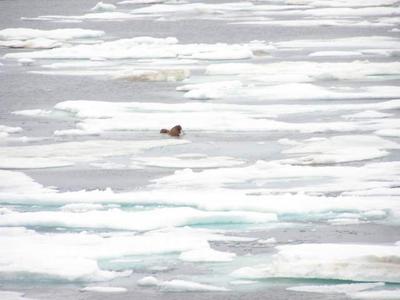 If you look close, you can see its tusk to the right...
---
Contact the TEA in the field at .
If you cannot connect through your browser, copy the TEA's e-mail address in the "To:" line of your favorite e-mail package.