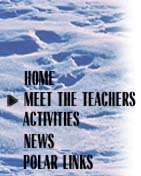 9 August, 2002
Mentoring and Arctic Peoples
In the morning we go over the mentoring process that will be perhaps the most challenging aspect of the TEA program- for me at least. Although I was originally thinking of working with my colleagues, after today's session, I'm leaning more towards building a collaborative learning group with a teacher from each building in our district (that is, two elementary teachers and a middle school teacher). One reason for this- among many- is that I believe I'll learn more from the holistic approach to learning that my elementary co-workers are challenged with each day. I have always been somewhat puzzled and impressed with how they prepare and teach all subjects throughout the year. Their points of view should provide new insights into my teaching that my fellow high school teachers can not as I know them and all their tricks all too well.
This afternoon, an anthropologist gives us an interesting overview of the peoples that live at the top of the world. Parcticularly helpful were pointers about various dos and don'ts in interacting with these new cultures. For example, well-respected people such as the elders in Yupik society will speak softly, rather than loudly. Or, if someone doesn't respond promptly to a question that you pose, it's because they are giving thoughtful consideration, and not simply ignoring you, instead of just replying with the first thing that comes to mind. Both of these traits remind me of the Baka (pygmies) that I met in Cameroon sometime ago. It is truly amazing how similar indigneous cultures can be in completely different parts and climates about the world.
---
Contact the TEA in the field at .
If you cannot connect through your browser, copy the TEA's e-mail address in the "To:" line of your favorite e-mail package.