30 April, 2003
Today ended up being a relaxing day for half of our team. Due to the weight of the gear that we are flying to our camp we could only make two flights today and will fly in the rest of the gear and the last two members on Thursday early morning. A twin-engine otter can carry about 2000 pounds and make about two flights a day before the airport closes down. The two drillers, Lou and Sue, will go to set up the drill and Greg who is the most experienced scientist and core processor on the team. The rest of the team will load the gear for tomorrow morning and relax the rest of the day.
A reminder to all, the communication link between us is an Iridium Satellite phone connected to my lab top. I am able to write and then send journals and images. The process of loading and sending images of great quality is very time consuming. Often in the process the link to the satellite is broken causing the connection to the internet provider to stop. I have tried to resize images to make the process shorter but in the process the quality will be affected. Sometimes you may have to use your imagination!!!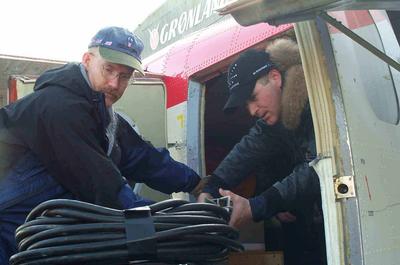 Dr. Joe McConnell hands gear to Stole. one of our Danish otter pilots. Hi Kate and Jamie!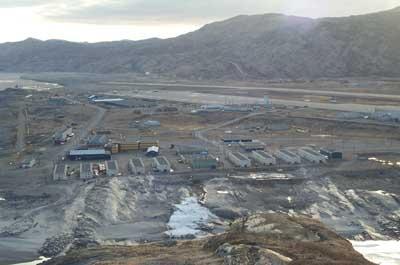 This is a view of Kangerlussauq from above. Most of the buildings are barrack style

Lou, Sue and Greg along with Thomas the pilot preparing to deploy.
---
Contact the TEA in the field at .
If you cannot connect through your browser, copy the TEA's e-mail address in the "To:" line of your favorite e-mail package.