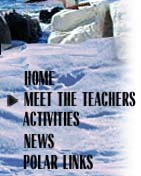 22 November, 2001
Yesterday, lunch included yankee pot roast, mash potatoes, mixed vegetables, a salad bar (jello/fruit, a pasta salad, chick pea salad), and a sandwich bar where you can have a sandwich in case you don't like the lunch. I was told that the sandwich bar is always there.
Dinner included, the usual salad bar (which is there everynight) similar to lunch, but with bean salad added, sphagetti with meat balls, freshly baked bread(also there every night), and desserts(2 types of cakes and ice cream/yogurt bar.
Today:
Breakfast- scrambled eggs, sausages, home fries, cereals, fruit bar (all canned though), toast, juices.
Lunch- because we were at Sea Ice School, we were given a bag lunch which included 1 P&B sandwich, 1 Ham & cheese sandwich, granola bar, candy bar, juice, string cheese and crackers.
Dinner- BBQ chicken, BBQ ribs, mash potatoes, mixed vegetables, salad bar, fresh bread, desserts (apple pie, peanut butter chocolate chip squares, ice cream/yogurt bar)
p.s I heard the head chef resigned recently and there's an opening. Anyone interested?
---
Contact the TEA in the field at .
If you cannot connect through your browser, copy the TEA's e-mail address in the "To:" line of your favorite e-mail package.