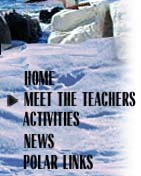 24 November, 2001
I have concluded that there is just too much food here! For those people who spend a great deal of time on the ice, high caloric intake is a must - about 5,000 calories per day! However, for those of us who work outside for a few hours a day, I really wonder if all this food is necessary. My caloric intake had definitely increased, and I'm curious to find out if I gain or lose weight when I return.
Today was our Thanksgiving Dinner. It was a major feasts. The usual turkey with stuffing, broiled salmon, roast beef, candied yams, cranberry sauce, an array of various salads, mashed potatoes, broccoli, dinner rolls, cheese platters, fruit platters, and desserts....pumpkin pie, pecan squares, several types of layered cakes, and ice cream.
---
Contact the TEA in the field at .
If you cannot connect through your browser, copy the TEA's e-mail address in the "To:" line of your favorite e-mail package.