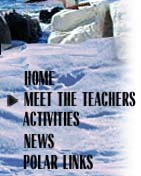 25 March, 2000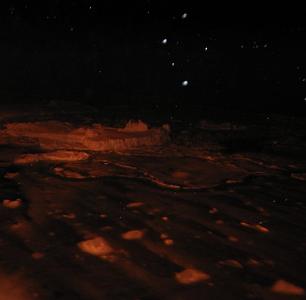 I'd like to be able to tell you that this is the constellation called the Southern Cross, but I would not be telling the truth if I did. Actually, it is some snow flakes which just happened to take that shape. It does look a lot like the Southern Cross, though. The real constellation, when you can see it, is almost directly overhead in Antarctica. In Kenya, on the equator, I have seen it low in the southern sky.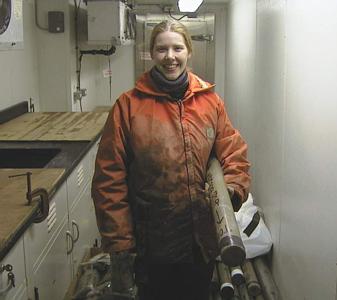 Melissa Harper in the walk in cooler where we store our cores. She is not usually this muddy!Melissa is the youngest person on board the Nathaniel B. Palmer, an undergraduate at the University of Maine at Orono. She got aboard the cruise partially because she took an Invertebrate Paleontology course that Dr. Tom Kellogg taught. She worked hard in the course, asked lots of questions, and spent extra time on assignments. Last summer she travelled to Tanzania to help with a research project on Lake Tanganyika. "Undergraduates shouldn't be afraid to apply for things," she says.
---
Contact the TEA in the field at .
If you cannot connect through your browser, copy the TEA's e-mail address in the "To:" line of your favorite e-mail package.