12 August, 1998
August 12, 1998
Prudhoe Bay/Deadhorse****Musk Oxen****Toolik Lake
We started our journey from Fairbanks at 8 AM to go to Prudhoe Bay and the town at the bay called Deadhorse. This is rural America at its most basic definition. Not a whole lot here. Deadhorse is on the North Slope because of the oil fields and therefore is mainly to service the needs of the workers here. We picked up some supplies that were stored here and then decided to stay at SA-10 for some of the best food in the Arctic (these are Anna's exact words). The food was good and then we started the 125 mile trip to Toolik Lake.
The trip to Toolik Lake ended up being really cool. We saw a small herd (about 5 adult and one child) of musk oxen and all of us piled out to get some pictures. This group was very mild and we were able to get pretty close, although Fritz was a little too uncomfortable about how close. I know we had seen them at LARS, but seeing them in a natural setting was very exciting. We also got to see some Caribou (too far for pictures) and a fox trotting around the tundra. An interesting note about the foxes: about 80% of them have rabies so it is stressed around here that we shouldn't encourage them to come around, even though they are so cute!
When we finally got to Toolik Lake around 11 PM it was still light out (my body is still not used to the daylight (nightlight?) that is so prevalent around the Arctic). Toolik Lake is a beautiful place. Nestled in the foothills of the Brooks Range the lake is not huge but it is clear and picturesque. It is also very cold, but I am told people swim in it after a stay in the camp's sauna. I don't know if I'll be that brave. Everything at the camp, including water, must be trucked in and out from Fairbanks and Deadhorse. Needless to say there is a lot of conservation going on. No long hot showers or wasting of much of anything. Bathing is done near the sauna with the heated water and bathrooms are outhouses on stilts. Not a terribly rough place to camp but not one for those who need their blowdryers or curling irons. We are sleeping in trailers that were brought in during the construction of the Dalton highway back in the 70's. The view from the camp is beautiful as I mentioned before and the extended daylight makes it scenic for about 20 hours.
Tomorrow we will start to download data from the research sites and get our first, up close and personal look at the tundra/active layer. MYM
JAVIER'S PIECE
We did a lot of travelling today, moving through Anchorage, Deadhorse and the Foothills North of the Toolik field site.
Prudhoe Bay was an interesting place to visit. It is obvious that the oil company pipes quite a few dollars into the operation here in the middle of nowhere. The urban sprawl of industry was a bit appaulling, however.
As we left the small community of Deadhorse, we saw vast plains of tundra filled with various exotic forms of vegetation and animals. Both Don and I got a little too close to some Musk Oxen, but we got some great pictures.
Toolik was a dream. There was food everywhere in the cafeteria and the dorms were comfortable, but the temperature outside of the dorms was the same temperature inside the dorms. At least there's no wind chill inside.
Tomorrow should be the first day of actual field work. We will probably travel out to the tundra and have a blast.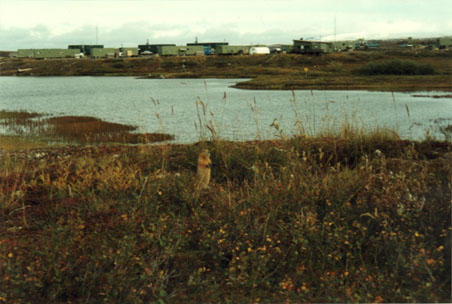 A sik-sik (arctic ground squirrel) stands watch over Toolik Lake (photo by Javier Lopez).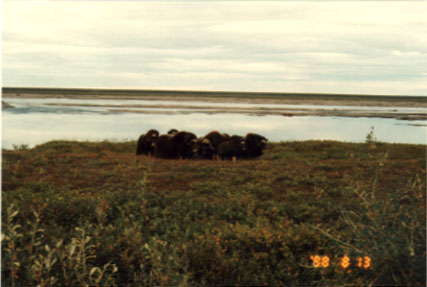 A herd of muskoxen on the bank of the Sagavanirktok (Sag) River (photo by Javier Lopez).
---
Contact the TEA in the field at .
If you cannot connect through your browser, copy the TEA's e-mail address in the "To:" line of your favorite e-mail package.