16 August, 1998
Journal 08/16/98
Toolik Lake Site****Snow****Sauna
We woke this morning to snow! Not too much, but more than Javier had ever woke up to. There was probably about an inch or two all together. It sure made the tundra look a lot different. Instead of the browns and greens, the white of the snow made everything look so pure (like this wasn't pure enough wilderness already). This being Sunday most people at Toolik take the day off. Everyone took a leisurely brunch and then decided what to do.
Fritz and Anna went back to Happy Valley to work on a large Campbell Data Logger. Javier, Laura, Claire, and I went and did active layer measurements on the Toolik Lake ARCSS (Arctic System Science) grids. Remember, these are the 1 km. square grids with posts every 100 m. The snow was pretty much gone by 2:00 or so and the sun came out. I should mention that all that beautiful snow makes mud really fast in the Arctic.
Dinner this evening was Filet Mignon and boy was it good. The perfect way to follow up this dinner was the sauna and getting clean which we did do. Then it was inputting data into the computer. Not a lot different today but it was another good day of work. I hope we get more snow tonight but it warmed up a little so who knows.
JAVIER'S PIECE
I was excited that there was snow on the ground; it wasn't even cold when it was snowing! Today was a regular day: field work, food, field work, etc. Out on the field at Toolik, I saw the pelvis and lower backbone of a caribou, perhaps the victim of an angry bear. It was a little disconcerting; finding bones in your backyard is not a great thing for that sense of security.
Nothing extra special or unique happened today, so I'll finish off today's journal with a goodbye.
______________________________________________________
Get Your Private, Free Email at http://www.hotmail.com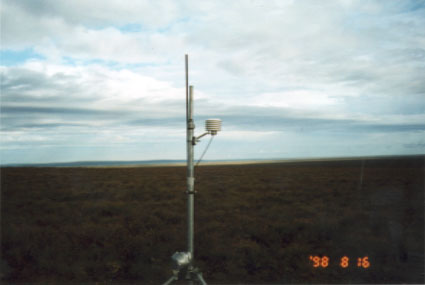 Mast with Radiation shield and logger housing (can) at Sagwon 4 site (photo by Javier Lopez).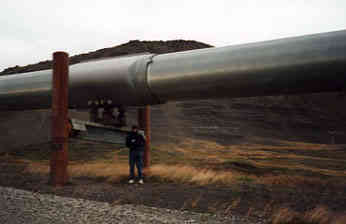 Javier next to the Trans-Alaska Oil Pipeline as it passes Slope Mountain (photo by Javier Lopez).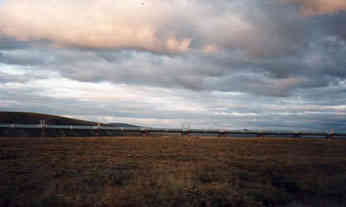 The pipeline runs through the foothills north of the Brooks Range (photo by Javier Lopez).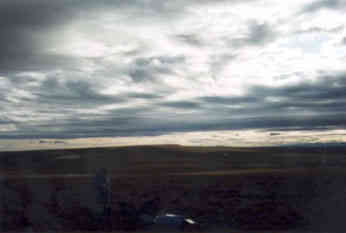 Sam Outcalt overseeing Ron Paetzold servicing a Campbell datalogger at site 4 in the Sagwon Hills (photo by Javier Lopez).
---
Contact the TEA in the field at .
If you cannot connect through your browser, copy the TEA's e-mail address in the "To:" line of your favorite e-mail package.