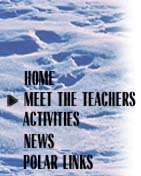 24 August, 1998
August 24, 1998
Finishing Field Work****Dinner at Tim Buckley's
We did it! Anna, Javier, and I are done with the field component of this years research. I am very happy that it will be a while before I wear my rubber boots again. Anna and I went to the IBP sites and found the 5 that we couldn't find the other day. Boy, they were hidden well. Fritz and Javier went to the CRREL plots and also downloaded a Campbell data logger. Javier also did some work that he needed to do for his project.
The weather today was "typical", at least for Barrow I'm told, windy, wet, and cool. Since we had nowhere else to collect data the afternoon was spent in the lab entering data and talking. At about 3:00 PM we were kind of sleepy, so six of us piled in to the pick-up and went to Polar Haven (a great coffee place that has lattes to die for). The caffeine gave us the extra boost we needed to get through until dinner at Tim Buckley's house (if his name sounds familiar it is because he is a TEA person, for 2 years running now). Dinner was wonderful. A home cooked meal tasted great (we are all getting tired of eating on cafeteria trays), and let me tell you, Tim and his roommate Jim are great cooks. We had halibut stir-fry and rice, some great conversation, and an invitation to see the high school tomorrow night. It will be great.
JAVIER'S PIECE
Today, I went with Fritz (the scientist formally known as Dr. Nelson) to the Barrow grid to collect more samples of lichen. After walking about 0.7 kilometers just to get to the grid, we had to walk another hefty distance to get to the data loggers. The walk isn't bad because there is quite a lot of scenery, flora and fauna, to keep you entertained and amused. Today, however, this walk was taxing. The wind was not overly powerful, but it was strong enough to make rain fall at close to a 30 degree angle. When you've walking into the wind, you struggle just to get each foot down, but when you walk with the wind, you're speeding no matter how fast you want to go. From what people tell me, this is very typical weather for Barrow. Sometimes, the winds and the rain are so bad that they get this phenomenon called "horizontal rain." Everytime Anna mentions this, she smiles knowing that today was not as horrid as it could have been and that we were blessed by the beautiful weather - even if it's overcast and raining. I admit, weather-wise, I'm spoiled. Florida sees more temperate, sunny days than all of Alaska. This is why I have a hard time seeing why some people call some weather gorgeous when I think: "It's ...okay."
After that, I stayed at the lab until we went to Tim's house. Apparently he lives right by the school (granted everything is relatively close together in Barrow). He cooked a very tasty meal, by any standards. Then Don, and Tim had an interesting conversation about the regional school and cultures. It was very enlightening. From what Tim tells us, kids around here are like kids everywhere: they play practical jokes. One such example is the instance of birthdays. Whenever it is someone's birthday, they throw them out into the snow and stuff ice down their shirts. When we asked Tim if students don't perform this ceremony when the weather was 45 below and he replied: "I don't think they would ever say: 'hmmm, I think it's too cold outside. Let's put this off for later.'"
The school that I go to, River Ridge Middle/High School was built only a few years ago. That is why I am extremely anxious to take the tour of the school tomorrow. Hopefully, it will be a very interesting time.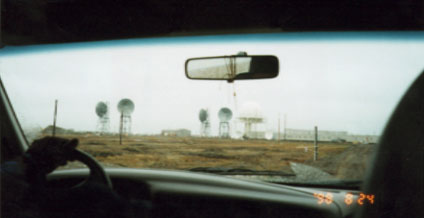 Approaching the DEW (Distant Early Warning) line station near Barrow (photo by Javier Lopez).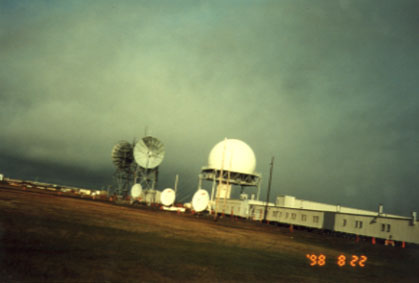 The DEW line station at Barrow (photo by Javier Lopez).
---
Contact the TEA in the field at .
If you cannot connect through your browser, copy the TEA's e-mail address in the "To:" line of your favorite e-mail package.