25 August, 1998
August 25, 1998
Last Day in Barrow****Visit CMDL (NOAA's Climate Monitoring Diagnostics Laboratory)****Beach****Search for Native Crafts****Polar Haven Coffee Shop****Tour of Barrow High School****Dinner at Brower's Cafe****Pack Up Gear and Take Inventory
Our last day in Barrow is a sad and yet happy thing for me. I have enjoyed the visit but I think it would be very difficult to live here. Since there are no paved roads because of the weather, everything is dirty and has the appearance of being run down. Places seem to be open, or closed, at random (although I think it is a personal thing since I haven't gotten used to the time space continuum here, this daylight is fun but weird). One truly great thing about Barrow however, is that all the people I have met have been incredibly friendly and willing to offer assistance to us "invaders".
Anna took Javier and I to visit CMDL, which is a weather/climate/environmental monitoring lab near Barrow. In fact there are only 4 such labs in the world. This place was awesome. From the outside, the building was small, plain, and unobtrusive, but when you went inside it was set up with more electronics and equipment than I have seen in a long time. They monitor everything from carbon and the ozone to nitrogen content in the air. The mascots of the office were two huskies. One old and one young. The young one (I can't remember the name) was friendly and would even "sing" on command. In either case, the dogs were spoiled to death.
Since it was the last day, I wanted to find some crafts in town, but tourist season is ending and most people are sold out. Some baleen would have been nice but prices were way to high for my meager income. We decided on beachcombing instead and got some really cool rocks and shells. Maybe not as impressive as the ivory or baleen would have been but the price was right.
Tim Buckley took us on a tour of Barrow High School, home of the Whalers. This school is INCREDIBLE! They may be small, about 450 students I think, but they have equipment and classrooms that I surmise many colleges would be jealous of. There is an indoor pool, an auto shop, wood shop, metal shop, and any other technical field learning area imaginable. This place is set up to teach kids how to make a trade in the world. I am amazed at the consistency in which the North Slope gets the best for their residents. Dinner was at Brower's Cafe, which was the starting point of many American whaling expeditions back in the early 1900's. Then it was back to NARL to pack up and get ready to go home. Early flight so hopeful the fog won't hold us in.
JAVIER'S PIECE
I believe that lovable canine that Don refers to when speaking of the CMDL is called Delta, but I'm not certain. It was on eof the cutest dogs! The fur was so thick and warm and the creature was very lovable. He, as I later discovered, was one of the more tame domesticated animals of the breed Malamute. The lab itself was very encompassing. They had just about everything that they needed to run comprehensive atmospheric analyses as compared to some of the other labs who had to send their samples/data to be processed in Anchorage.
After this enjoyable excursion, Don decided to scope the town for some balene. We went from the local culture center to a few small tourist businesses. The whole town seemed to be quite out of balene, at least at the price that Don wanted. When we were at "the Eskimo Shop" (I believe that's what it was called), no one answered the door. We could not see through the window whether anyone was there so I decided to go around back and see if the proprietor was there. When I went around back, I was walking at a brisk pace to the rear window when something in the corner of my eye moved. I started to really move at me and when I turned to look, lo and behold, it was another Malamute, except this one was jumping at me! Understandable, I began to run away and onto a raised platform where I jumped, scraping my leg. Lucky for me, the dog was tied up and could not get any closer. Don came around back and asked if I was okay (apparently all they heard was the thud of my leg hitting the raised platform). Well, from now on, Don can get his own balene :-).
That night, we took a tour of Barrow High School. It was a high school that was loaded! I mean loaded with machines and equipment -- all state of the art. My own high school is much larger and more spread out (but everything in Florida is spread out) so the school really was a compact version of mine. Still, a couple million for that whole complex seems a bit excessive (even with raising it above the ground and construction costs).
Tomorrow, I'll be in Fairbanks again. I have been a little tentative on this entire journey, but now that it is coming to a close, I feel a deeper connection with the people that I have spent time with out on the field. And in the snow. I know I'll miss it and for all that Barrow is not, I still want to stay.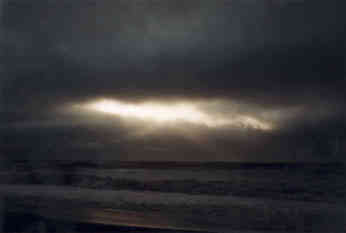 Even on the stormiest of days, Barrow is remarkable (photo by Javier Lopez).
---
Contact the TEA in the field at .
If you cannot connect through your browser, copy the TEA's e-mail address in the "To:" line of your favorite e-mail package.