7 August, 1998
So I finally, after a delay in Atlanta, I got to meet Anna and Javier at the airport. Fritz had left already and we went to eat dinner in Albany and checked into the hotel. Anna is like the kid sister that likes to boss everyone around, but she seems really nice. Since she controls the money for the trip, Javier and I really need to stay in her good graces....that is why we can't call her mom. I think Javier and I could be in trouble if she decides to give a bad time back to us so we may need to lay off after a while. After dinner Javier and I decided to cruise Albany and got ourselves a little lost in this metropolis, but finally got home and hit the hay. TOY
On Friday both Javier and I finally got to meet Fritz and he gave a stunning presentation on Arctic research with color graphics and the whole shootin' match. Besides being a great guy, Fritz explained that there are some promising trends in the research and the data they were collecting last summer. In short they believe that modeling the depth of the active layer is possible with some degree of accuracy. This is really neat to see the massive amounts of data consolidated onto one graphic and explained so eloquently. He makes it look so easy, when in reality a whole lot of number crunching and hard work is happening. Thankfully the 2 Pentium 400's they have make relatively short work of the computations.
Sally had paperwork to fill out so we got that done right after lunch. She is the real force behind the research and a great gal too. It really is great to put faces with names.
Anna is going to show us how to use the data loggers and the related software so we won't look like total fools when we hit the tundra, only partial ones. We also are packing instruments and getting ready to head to Fairbanks on Monday. I still can't wait to see Alaska. I am also anxious for Javier to see snow.....he has never seen it in real life yet and I want to see the joy/misery of his first experience.
More later all,
TTFN
JAVIER'S PIECE
It's been great so far... Don, Anna and Fritz are very kind and outgoing; they are very friendly. Albany is a small college town but it is easy to call home. The session today on the project was informative and educational. Don, however, acts like a 30-year old teacher. I respect him ever though, his sense of direction is a bit flawed. I anticipate exploring the aspects of Albany with Don via his rental car, while Anna (mom) grits her teeth.
Sally has been a goddess to all of us.
We all wish that she would have had dinner with us at the Thai place... great food!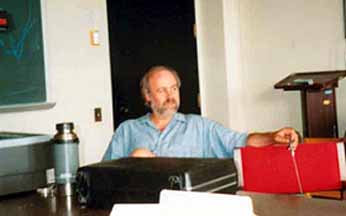 Dr. Nelson showing us the overhead slides of the Arctic project.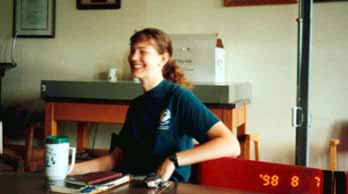 Anna Klene teaching us about the Kuparuk Basin.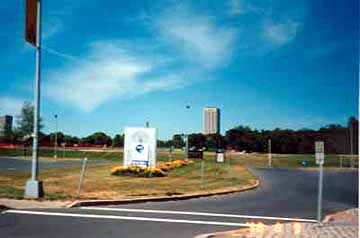 The SUNY campus at Albany, where we learned about permafrost.
---
Contact the TEA in the field at .
If you cannot connect through your browser, copy the TEA's e-mail address in the "To:" line of your favorite e-mail package.