8 August, 1998
Day number two at SUNY in Albany started with Javier sleeping in too late. Anna was very nice though and postponed her lecture on the Arctic conditions and permafrost that we would be dealing with. Many of the pictures were taken in previous years and in June so there was still snow. In any case, I CAN HARDLY WAIT to get up there and see the sights personally.
After the lecture we were taken to a field site on the Helderberg Escarpment and got to see a real live science measurements being recorded by a device similar to those we will be working with in the Arctic. Hopefully, we can get a picture of one in an upcoming journal. This one was taking temperature measurements at different levels above and below the ground.
After the field tour, Anna took us to John Boyd Thatcher State Park so we could see some of the beautiful scenery of upstate New York, take a few pictures, (toy) and hike around a little. It was here that we found out Javier is a little leery of heights. Seems there isn't too much elevation in Florida. Very pretty place, about 1000 feet in elevation, with some views of Albany in the far background. A wonderful place to go camping and/or hiking-BIGTIME. It was during one of the panorama shots that I experienced camera trouble so unfortunately those awesome shots were lost. A quick trip to the camera store and I am now back in business.
To test the camera we went to Washington Park in the middle of Albany. Anna says the designer of the park, Frank Law Olmstead, also designed Central Park in NYC. It is a really pretty place, like a mixture of Manito Park (although not as special) and the Finch Arboretum in Spokane. I would like to come back to this side of the country sometime.
Other places of interest we visited were the Hudson River, downtown Albany, and the Eastern part of I-90 (the last one is weird I know but it is a link to Spokane that was a warm fuzzy feeling for me). Tomorrow, we will be visiting a museum and having dinner with Fritz, Sally and some other members of the Geography guru's of SUNY past and present. Maybe we will even get to go back to Thatcher and get those shots that I lost.
We are all packed up and ready to leave Monday morning for Fairbanks. It is getting closer all the time. Only 18 days left.
TTFN
Don
JAVIER'S PIECE
Today, we all went shopping for boots and clothing; then, we went to the University for Anna's slide show. She showed us all of the people we would be meeting up there and all the the places that we would go. The Brooks Mountain range looks so monstrous and looming in the distance that it sort of watches over the landscape. Understandably, I was quite impressed; we don't have anything of that sort in the topographically uniform terrain of Florida. Soon, however, I was about to experience the mountains first hand.
Don and Anna both had a hardy laugh when I called the Helderberg Escarpment a mountain, but to me that was what it was. The view was spectacular and the cutting and geology of the cliffs and caves was really interesting. Unfortunately, the waterfalls weren't flowing at this time of year, but one can just imagine the grandeur of the waterfalls in the Spring. It is a shame that Don lost most of the pictures that he took up there, because it was quite photogenic.
After a quick stop at the camera store we went to the Park and then to the Hudson River. I spent about 2 rolls of film today and hope to scan in the pictures and e-mail them to fiends and family; if only they could be here.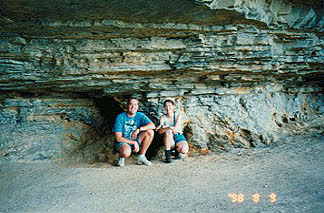 Anna and Don Rogers site seeing at Thatcher Park, New York.
---
Contact the TEA in the field at .
If you cannot connect through your browser, copy the TEA's e-mail address in the "To:" line of your favorite e-mail package.