9 August, 1998
August 9, 1998
New York State Museum****Corning Observation Tower****Empire Plaza****Dinner at Jack's Oyster House
Today we saw the New York State Museum and it was pretty neat. Everything from natural history to the progression of people in the area was laid out. The highlight of the tour was the BEAR exhibit. We saw great taxidermic examples of Grizzlies and black bears as well as traits and habits of each. We were able to see a video on what to do if/when a bear attacks and Anna and I were able to pull Javier's leg a little about the probability of a bear attack (there is really very little danger). Following the museum we got to see the Empire Plaza and the Corning Observation Tower in downtown Albany. The tower gave a great panoramic view of the city and let us see the entire plaza below. WOW, what a cool egg shaped theater/performing arts building in the middle. Overall there was some great architecture seen.
Dinner was at Jack's Oyster House with Fritz, his wife Margaret, Anna, Sally, Javier, and myself. The food was great and I had the Long Island Bluefish. It is a little like catfish with a soft consistency but overall very good.
Tomorrow is a travel day and we need to be picked up by a cab at 4:30 AM. This is really 1:30 AM my timeŠ.I would probably just be going to bed. I am not looking forward to this!
JAVIER'S PIECE
The museum was very informative. The bear exhibit, in parcticular was highly informative. Anna, Don, and I watched a video of people who were mauled and even killed in bear attacks. This does little for that feeling of security that Anna continues to assure me exists in the middle of nowhere. Although the likelihood of us being attacked by a bear is unlikely, I support Don's hypothesis for survival: whichever one of us runs slowest is doomed. From this perspective, I (being a teenager and capable of adrenaline that some "older people" aren't) can probably outrun Anna, at least!
After the museum, Don truly showed us his maturity by jumping in the elevator on the way down from the Observation Tower. This really freaked me out, because the elevator goes quite quickly up and down (forty some flights).
We walked around Empire Plaza viewing historic sites like the New York State Capitol Building and the non-aesthetic Egg. The design is actually quite repulsing and it is difficult to imagine that it would benefit the acoustic properties of the building.
Dinner tonight was at Jack's Oyster HouseŠ good food, but they chose quality over quantity and I was forced to eat a delicious chocolate dessert while everyone salivated at my plate. (or that's what it seemed)
Well, tomorrow is the flight and it will probably take most of the day. I can't wait to see what Anna and Don call real mountains.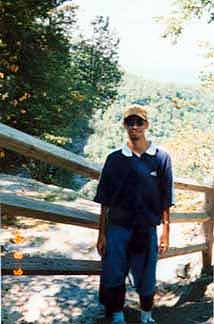 Javier Lopez standing near cliff at Thatcher Park, New York.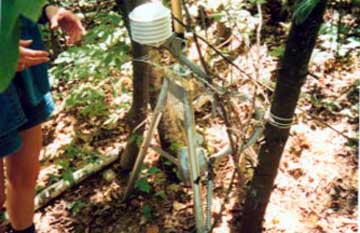 A simple temperature probe at Thatcher Park, very similar to the ones utilized in the Arctic.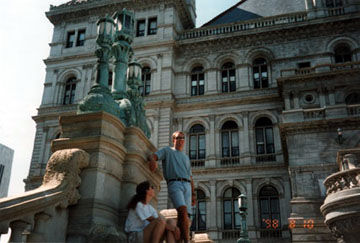 Anna and Don in front of the New York State Capital Building.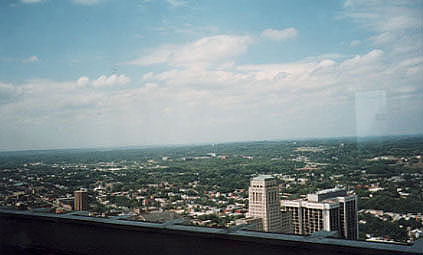 The view southwest off the Corning Tower in Albany, New York.
---
Contact the TEA in the field at .
If you cannot connect through your browser, copy the TEA's e-mail address in the "To:" line of your favorite e-mail package.