10 May, 2001
Ice Bear Safety and Training
God dag! (Good day!)
Clouds moved in overnight so it was a little cold this morning. Perhaps it is a good day to learn about the ice bear!
Last night we had a lecture on polar bear habits and a slide show. Today we learned how to clean, handle, and shoot a 12 gauge shotgun! At 7:30 am, we boarded buses and headed for the shooting range for a whole day of practical training at Rosersberg Range (Photo 1 GunTraining). Solid lead slugs are used in the guns. No one is allowed to work out on the ice unless they complete the shotgun course.
After instruction, we headed to the range to practice our "Shooting Stance" (Photo 2 PracticeStance). Since only one person at a time is allowed to actually be shooting, we had to wait our turn while we watched the others (Photo 3 WaitingToShoot). Can you tell I really like wearing my new Swedish Polar Research Polar Fleece jacket?
There's the bear! Our instructor Peter watched carefully and critiqued our shots as we tried shooting a stationary target with consistency (Photo 4 Instruction). Next time, we practiced on a running bear (Photo 5 Shooting) although it looks like he is already running away! All in all, I did pretty well and the day helped me to become comfortable handling the gun in case of an emergency. Ouch! My shoulder sure is sore!
Tomorrow I visit a Swedish High School! God natt! (Good night!)
Dena Rosenberger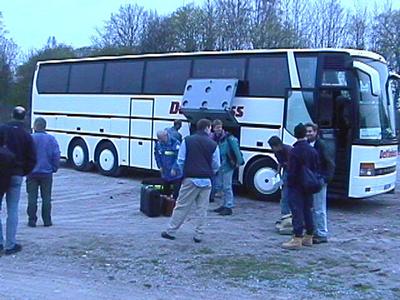 Arriving at the shooting range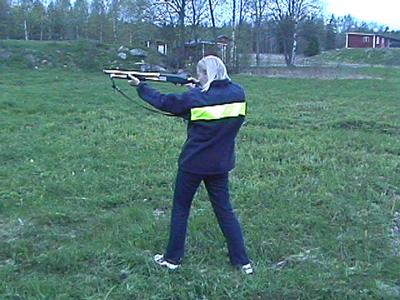 Wow! Don't I look like I know what I am doing?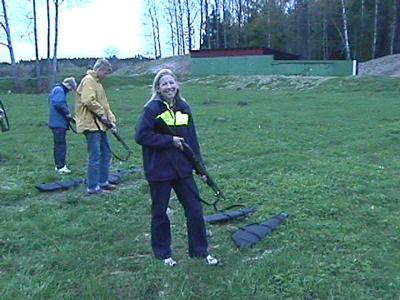 Waiting my turn to shoot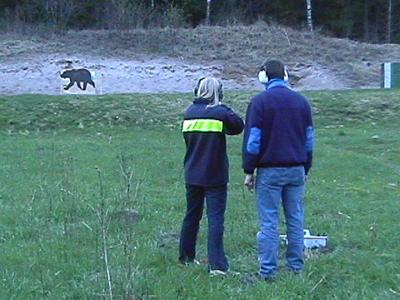 Learning to shoot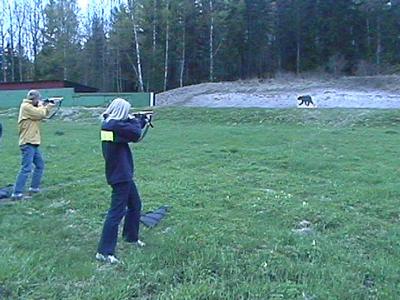 There's the bear!
---
Contact the TEA in the field at .
If you cannot connect through your browser, copy the TEA's e-mail address in the "To:" line of your favorite e-mail package.