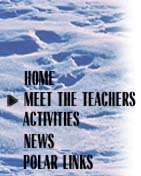 28 June, 2001
Waiting for the Icebreaker Oden
Hej! (Hello in Swedish)
I am waiting in Gothenburg, on the west coast of Sweden, for the Icebreaker Oden to come in to the port. Tomorrow, Friday, June 29, we depart for the North Pole if all goes well. All of the scientific equipment is onboard but most of the scientists will board here in Gothenburg by taking a small boat from the dock with our personal baggage and transporting to the Icebreaker waiting in the harbor. I am a little bit nervous but excited to finally get underway after all of these months of preparation.
Thanks to all of my chemistry students and the faculty and staff at El Capitan High School for all of the support and good wishes you have given me!
Keep in touch!
Adjo!
---
Contact the TEA in the field at .
If you cannot connect through your browser, copy the TEA's e-mail address in the "To:" line of your favorite e-mail package.