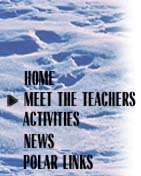 30 June, 2001
Our First Full Day at Sea
God Dag!! (Good Day)
Life on Board The schedule on ship is very structured with meal times and cleaning. Breakfast is served from 7:30 a.m. to 8:30 p.m., coffee break at 10 a.m., brunch from 11:30 a.m. to 12:30 p.m., coffee break #2 at 3 p.m. (the Swedish drink a lot of coffee!), and dinner from 5:30 p.m. to 6:30 p.m. Everyone, scientists and crew, have meals together in the mess hall. So far, meals are very good. For example, today for lunch, we had bread and cheese (always at every meal), green salad, new potatoes, and whole trout (with the head still on). I am eating more than I eat in San Diego. But meal times are also a time when everyone gets together to socialize. Everyone is expected to take turns at cleaning the deck. When it is your turn, a sign that can't be ignored is placed on your cabin door by the staff captain. You then must report to the captain for instructions. Scientists are part of the crew on Swedish expeditions, we are also expected to help in the galley (kitchen).
Scientists at Work
Today one of the scientist groups wanted to test the sampling roset. The roset consists of 24 long bottles(called nisken bottles) attached vertically in a circle around a central core that is connected to the winch on the back deck of the ship. The roset is then lowered using the winch to specific depths chosen by the scientists. Each bottle is programmed to get a specific depth as the roset is lowered through the water. The roset is pulled back up and sea water is analyzed for a variety of things, such as salinity, nitrates and nitrites.
---
Contact the TEA in the field at .
If you cannot connect through your browser, copy the TEA's e-mail address in the "To:" line of your favorite e-mail package.