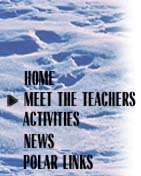 17 August, 2001
Cracking Up
Friday, 17 August 2001
Valkommen!
Life on Board
We are so isolated that the expedition leaders make a big effort for birthdays and other events. Tonight, we had two important birthdays to celebrate: Our security officer, Anders Gejer, turned the big 4-0, and one of our meteorologists, Michael Tjernstrom, from the University of Stockholm, turned forty-something, so we all met at 10 pm after most people are done working for the day. There were many gag gifts for both of them and some nice gifts as well. The Swedish Polar Research Secretariat personnel onboard gave them books and ties and expedition leaders made personal T-shirts using some Adobe Photoshop software and goodies. They also got to choose dinner foods, within the confines of what we have left on the ship (which isn't much, and no fresh veggies or fruits. Except potatoes and onions. I can't wait to have a green salad! Green lettuce, red tomatoes. Maybe I can get one at Spitzbergen. Or some Mexican food.hmmm.chips and salsa, fajitas, taquitos, burritos. Or perhaps a nice summer fruit salad. Cantaloupe, watermelon, grapes, strawberries. Popcorn. Peanut butter and jelly. Wait a minute, I was talking about birthday parties, wasn't I? Not sushi, not stir fry, not cheeseburgers!). The cooks actually do pretty well with what they have.
Where Are We Now?
Well, I am not quite sure because I loaned my Garmin GPS out. It was a hazy sunshine day and many people went out skiing. Because of the fog, they were required to have a minimum of 3 people in the group with 2 radios and keep in sight of the Oden. Although the ship has cross-country skis to loan, I brought my own mountaineering skis and boots and almost every day, someone asks to borrow them. They are easier to control when the conditions are icy because they have metal edges. Also, the ship's boots are one-size-fits-all and that doesn't always work for the women on board.
Scientists at Work
Most of the scientists in our group believe that the Arctic summer is just starting because they are beginning to see more activity and organisms in the water and more parcticles in the air. They are disappointed that we have to leave the area just when things are finally starting to happen. You can tell things are heating up because a big lead opened up just on the other side of the Main Mast Tower ice camp. The scientists want to go over and get samples from this newly-formed crack through our ice floe to see the biology start to build up as the water is exposed to air (oxygen) and sunlight. It is a good thing that the crack didn't go under the tower and drag everything into the ocean as it split apart. This has actually happened to scientists on other expeditions.
We are beginning to make plans to leave our little ice floe and drift station and start the long trip home through the ice. The ice camps will begin to be taken apart on Sunday, collecting data as long as possible. We are scheduled to depart on Tuesday morning.
Vi ses! (See you later!)
From Deck 4 on the Icebreaker Oden, on our little ice floe, north of 88, Dena Rosenberger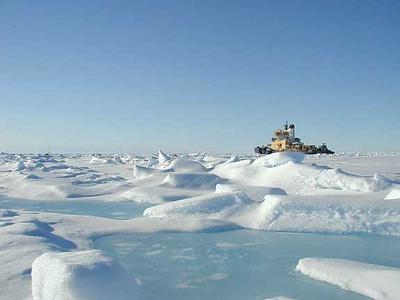 The Oden on an unusual sunny day
---
Contact the TEA in the field at .
If you cannot connect through your browser, copy the TEA's e-mail address in the "To:" line of your favorite e-mail package.