13 October, 1999
On day two in Christchurch, things are going pretty much as I anticipated. Hurry up and wait. After the rush to get to the Clothing Distribution Center (CDC) and trying on all my Extreme Cold Weather (ECW) gear, we have found out that the flights from Christchurch into McMurdo are backed up several days. There are many people who have been waiting six or more days for their ďice flightĒ. This has resulted in Christchurch being clogged with scientist and support people wanting to be on the next flight. I have heard estimates of as many as 200-300 people waiting for flights. The delays have been primarily due to the bad weather conditions at McMurdo. The landings there are by sight and the blowing wind has caused white-out conditions in the landing area. Three flights did go out today including two flights with passengers totaling about 150. If this keeps up, I should get my ice flight in within several days. The way that works is they will call you the night before and alert you that you need to be at the CDC Passenger Terminal in the morning. Sometimes that notice doesnít come until late in the evening so it goes day by day.
This backlog of Antarctic personnel has resulted in an interesting, but not uncommon, situation in Christchurch. It seems everywhere you go you run into someone impatiently waiting for his or her ice flight. The hotels and guesthouses are getting pretty crowded because the people arenít getting out on the ice and new people are arriving every day. The good news is that I have had the opportunity to visit with lotís of Antarctic veterans, some who have been there 10 or more times. They all talk about how awesome and beautiful it is. I canít wait to see for my self.
I got my ECW gear yesterday. Iíve attached some pictures of John Wrenn and myself at the CDC trying everything on. The clothing is quite good and they seem to give you everything you need to keep warm in the harsh Antarctic environment. We were told that it is extremely important that you make sure everything fits because if the clothing is too tight it may restrict circulation and if it is too loose it may not adequately keep out the cold and wind. I tried it all on. Two sets of heavy underwear, 6 pairs of gloves and mittens, several pairs of socks, 2 hats, a balaclava, and a neck gaiter. I was also issued a down parka, windbreaker, wind pants, polar fleece pants and jacket. I also got a pair of very large, thick soled, insulated boots. I will use this gear for the duration of my stay on the ice and return it to the CDC when I return. I have also brought some of my own cold weather stuff as well. I think I will have sufficient clothing if I use it right.
I had a chance to walk around Christchurch today. They have fantastic botanical gardens and with the start of spring here, the flowers seem to be exploding. There were wonderful smells everywhere. I also visited the Canterbury Natural History Museum. Among other things I saw some items actually used by Ernest Shackleton, Robert Falcon Scott and Roald Amundson on their various Antarctic expeditions. It was really neat to be so close to history. I will be visiting a New Zealand school tomorrow. I will be telling them about my trip and seeing what questions they have. It should be interesting. I will let you know how that goes.
Talk to you next time!
______________________________________________________
Get Your Private, Free Email at http://www.hotmail.com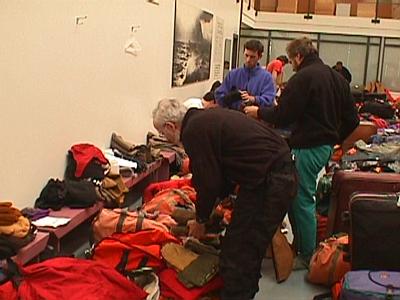 John Wrenn making some important fashion decisions at the CDC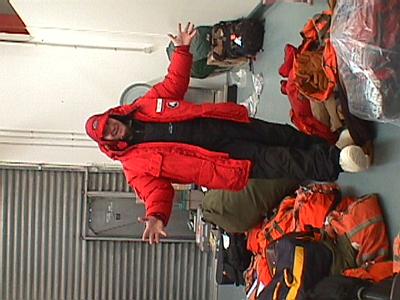 All dressed up and no place to go....yet
---
Contact the TEA in the field at .
If you cannot connect through your browser, copy the TEA's e-mail address in the "To:" line of your favorite e-mail package.