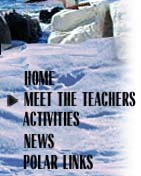 12 October, 1999
Wow, what a 24 hours I have had! I started out in Appleton, Wisconsin at 4:30PM Central Daylight Time on Sunday, October 10th and after a fight through Chicago, Los Angeles and Auckland, New Zealand, here I am at the National Science Foundation Office in Christchurch. It is now 12:00Noon New Zealand Daylight Time, Tuesday, October 12 (Wish me a Happy Birthday!). That's 6:00PM CDT! The flights went very well. Even the long 12-hour flight from Los Angeles to New Zealand went much faster then I expected. Perhaps it was the excitement or maybe it was that I slept for about 6 hours of it. As soon as we landed in Christchurch, we were met by a NSF United States Antarctic Program representative. We were informed that we were scheduled to get out Extreme Cold Weather (ECW) clothing at the Clothing Distribution Center (CDC) this afternoon! Hey we just got here! Not only that, but we are scheduled to fly to the "ice" on Thursday, October 14th. I was hoping for some time to enjoy what seems to be a beautiful place, Christchurch. This is going so fast. Well, after talking to some other scientist and support people, we were told that the flights are backed up and we probably wonít be going out on schedule. The weather in McMurdo has been bad and we met someone who was scheduled to go out today but wonít be going out until Thursday at the latest. I was told that you have ìstay looseî as far as the flights and they werenít kidding. I may not know for sometime when I will really fly to McMurdo. Iíll keep you posted.
I've already had some neat experiences. I saw the sun RISE in the western horizon! How is that possible? I'll give you a hint. We were taking off from Chicago just after sunset there and climbing in latitude. In the airport and on the flights, I met several scientist and support people on their way to Antarctica as well. I met an Air Force mechanic who had just returned from Christchurch where he was working on the C141 aircraft, the same ones I will be flying to McMurdo. When I changed my watch from for New Zealand time, I had to move it ahead 18 hours! Time really flies! New Zealand seems like a beautiful country. The little I have seen of it, the green fields, snow-capped mountains, and the beaches makes me hope that I have some time to explore. The weather when we arrived was sunny and about 70 degrees Fahrenheit.
Dr. John Wrenn and myself visited the International Antarctic Centre. It is a wonderful display of the history, wildlife and conditions in Antarctica. It has a large aquarium filled with Antarctic sea life such as sea anemones, sponges and sea spiders. They even had a room you could go into and experience the cold and wind of Antarctica. John and I figured that maybe we really donít have to go to Antarctica after all. Just kidding. I learned a lot and made me even more anxious to get on "the ice."
Well, I have to get over to the CDC and get my gear. Hopefully, I will know more about my "ice flight" as they call it. I can also let you know how my clothing selection went. Talk to you then.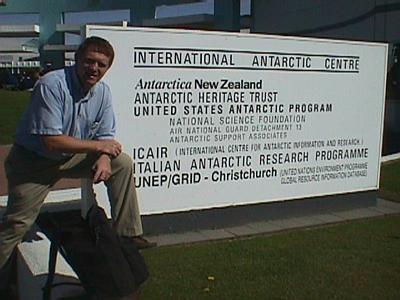 The International Antarctic Center, Christchurch, New Zealand

Going through "igloo training" in the mock Antarctica room at the I.A.C.
---
Contact the TEA in the field at .
If you cannot connect through your browser, copy the TEA's e-mail address in the "To:" line of your favorite e-mail package.