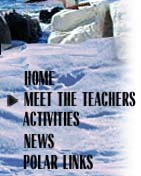 8 May, 1999
Well, this is the beginning of a wonderful and exciting journey. The trip to the coldest, driest and highest continent, Antarctica. Actually the journey started about two years ago when my application to the Teacher Experiencing Antarctica/Arctic (TEA) was submitted to the National Science Foundation (NSF) by Dr. Ira Geer. Dr. Geer is the Director of Project Atmosphere, an American Meteorological Society educational program of which I am a part. I found the prospect of being a teacher in Antarctica stimulating and intriguing. Unfortunately, to my great disappointment, I was not selected for the 1998-99 season. Undaunted, I asked to have my application submitted again for the 1999-2000 Antarctic season. In April of 1999 I received a phone call from Dr. Wayne Sukow of the NSF's Directorate for Education and Human Resources (EHR). I knew as soon as I heard his name what the call was about! I can barely describe my excitement. Now, here I at the Arlington, Virginia headquarters of the NSF going through the initial orientation for the TEA program. Dr. Stephanie Shipp, TEA - Antarctic Coordinator from Rice University is leading us through the many stages of preparation for our visit south (waaaaaaaay south!). I am just beginning to realize what a unique opportunity I am being afforded and the responsibility if entails. I am to serve as the eyes and ears for all those students and others who can, for now, only vicariously journey to the Antarctic. I hope I am up to the task.
I will be part of an exciting research teach headed by Dr. John Wrenn for Louisiana State University (LSU) in Baton Rouge. Dr. Wrenn's team will be studying microfossils found in sea-bottom drills cores at a drill site off Cape Roberts on the Ross Ice shelf. In July of this year, I will be traveling to Louisiana to work with Dr. Wrenn and his team to learn about the project and my part in it. Until then, I will need to study and prepare myself by reading about palynology, the study of organic-walled micro-fossils.
I will post an update upon my return from "Down South". Until then, if you wish to contact me and find out more about the TEA program and my specific project, please do so via the e-mail.
---
Contact the TEA in the field at .
If you cannot connect through your browser, copy the TEA's e-mail address in the "To:" line of your favorite e-mail package.