19 October, 1998
Welcome Friends...
I arrived in Christchurch, New Zealand this morning and let me say that it is quite a long trip. To think that it's not nearly completed is amazing. To be so far from home, meeting new people and learning new things is exciting. Let me share with you a little bit about my journey so far.
When I left O'Hare Airport in Chicago, Illinois, it was pouring out and had been all day. Made it pretty easy to leave that weather behind. It was hard to leave my family, however, and I knew it would be. I know I will be in daily contact, which helps. The United flight to Los Angeles was a little over 4 hours long. With about a two hour layover, I had time to visit with a friend AND run into 2 people I know from Crystal Lake. It IS a small world.
The flight to Auckland, New Zealand left LA at around 10:30 PM, but that was already 12:30 AM Chicago time. The flight went smoothly and much quicker than I anticipated. I met so many interesting people, many of whom are traveling to Antarctica like me...but work on a number of different projects or at very different jobs. The man in front of me, David, will be working with other men to build huge fuel storage tanks in McMurdo. These tanks are used to store JP-5 jet fuel. David told me that each tank will hold about 2 million gallons of fuel. Wow! We talked about the challenges of working on such a project in Antarctica. One of the biggest challenges is the wind. Remember, Antarctica is the coldest, windiest, driest, highest place on Earth.
I also met Rick, who was sitting across from me. He will be based at the South Pole Station, and his job is to help unload cargo that is delivered there by C-130 Hercules planes. This is his second year working for Antarctic Support Associates. ASA, as it is called for short, provides the support needed to run the U.S. research stations in Antarctica. When he's not working in Antarctica, Rick works for the National Park Service in Jackson Hole Wyoming (Grand Teton National Park) and does trail maintenance.
Just before landing I met Jason (seateat the end of my row), who will be working on the Cape Roberts Project. This is the project I will be working on, except he is with another team of scientists focusing on geophysics.
When we landed in Auckland I cleared through customs, picked up my luggage and took it over to the domestic terminal check-in. Once I got rid of my heavy luggage I walked a short distance from the International Terminal to the Domestic Terminal. It was a cool morning and the fresh air and exercise felt GREAT after being cooped up on the plane for 12 and a half hours.
Met up with Fred Atwood, another one of the TEA teachers in the line to exchange some U.S. money for some New Zealand currency. Right now for every U.S. dollar, you receive about $1.80 of New Zealand money. This rate can fluctuate, depending on where you exchange your money. I just needed a small amount of spending money for the two days I'm in Christchurch.
Onboard my Ansett New Zealand flight going south to Christchurch, I sat next to Gerry. He is a doctor and is one of the people who reviews the medical information we were all required to send to ASA in order to be accepted into this program. He is on his way to McMurdo to oversee the set-up for the small number of doctors at the base. This will be his third trip to Antarctica.
We were met at the airport in Christchurch by two members of ASA. They gave us our hotel info and the time we will be expected to report to try on our ECW (Extreme Cold Weather) gear. I report tomorrow morning at 9:00 AM. If you are in Chicago reading this journal entry...you are 18 hours behind us. Right now it is 9:30 PM in Chicago on Sunday night, and it's already 3:30 PM on Monday afternoon here. I think it will be hard to keep this all straight.
I checked into my hotel by the airport, wandered over to the National Science Foundation office and International Antarctic Centre. I took quite awhile looking at exhibits in the museum and learning more about where I will call "home" for the next 6-8 weeks. What a fascinating place Antarctica is! When I get to McMurdo, (unless I can figure out how to do it today), I will send some digital photos from the various exhibits in the museum. They even had an exhibit where you could put on a parka and go into a cold room filled with ice and snow...complete with a "Wind Chill" machine. Brrrrr...
I've rented a car for the next 24 hours. I needed it to drive out of town to do a school presentation tomorrow anyway, so I thought I might as well look around. The biggest challenge will NOT be to find my way...but rather to remember to stay on the left side of the road and remembering which side of the car to get into to drive it! I've already made that mistake getting on the shuttle from my hotel. The driver politely reminded me to go to the other side of the shuttle! :)
Well, that's it for today. I hope to have lots to share tomorrow, since I will have my ECW gear and will have driven around a bit.
Please save up those questions so you can write to me when I get to McMurdo. I should be on-line there by the end of this week.
So long for now!
Betty :)

My arrival in Auckland, New Zealand.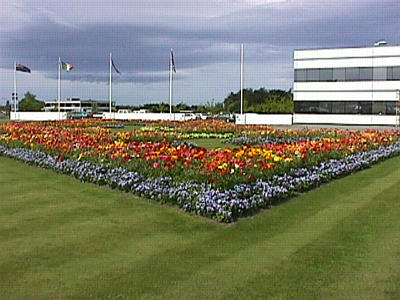 The spring flowers at the Antarctic Centre were absolutely beautiful. I took a long look at the colors...I may not be seeing those for awhile!

A look at the ECW (extreme cold weather) gear used in Antarctica.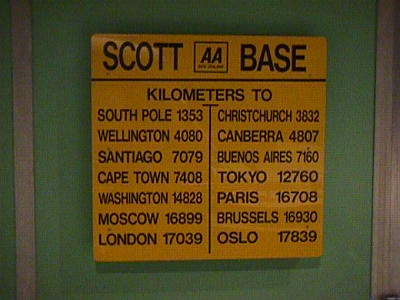 I hope that I get over to Scott Base (the "Kiwi" or New Zealand base) two miles from McMurdo.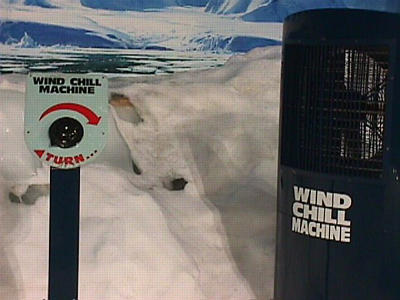 The wind chill machine in the Antarctic Centre gave me a taste of what weather might be like there. After all, Antarctica is the coldest and windiest continent on Earth.
---
Contact the TEA in the field at .
If you cannot connect through your browser, copy the TEA's e-mail address in the "To:" line of your favorite e-mail package.