24 October, 1998
Saturday, October 24, 1998
Hi Everyone! I spent the day around Christchurch, starting out at the NSF office to work on journals and answering e-mail. Finally found out how to access my e-mail account from home, so now I feel more connected with friends and family. It was great to hear from so many of you! Thanks! :)
Elissa and I worked in the computer lab until it closed at noon, then drove into town to look around. Some of the old buildings of Canterbury University are used by local artists to display/sell their work. On Saturdays there are additional crafts and art work for sale in the open courtyard. It was a nice way to pick up some hand-made gifts for family and friends (and of course, myself!)
I am really getting my exercise walking around Christchurch...it's such a great city to be "stuck" in. I've learned my way around, both driving and walking, and I feel like I've been here for more than a week!
Elissa and I met up with some of the guys who will be building the fuel tanks in McMurdo. The group we talked with tonight is from North Dakota. They are welders, and like us, waiting to fly to McMurdo. Jim, Daniel, Tom, Elissa and I walked to a place called Sgt. Pepper's to have dinner. You guessed it, a Beatles place...with memorabilia all over and Beatles music playing the whole time. I liked listening to Jim, Daniel, and Tom talk about how they travel all over the country building different types of tanks...not just for fuel. It is a great opportunity for them to experience Antarctica...just like for me! I continue to be amazed at how many different people it takes to run the research stations in Antarctica.
Back at the Windsor Hotel we met up with Gary Wilson...and we said "See you in McMurdo!" (good-bye) AGAIN. I hope this time they can land in McMurdo. Tomorrow they are taking TWO planes down there. They are using a C-141 Starlifter with cargo and a small number of passengers, and a C-130 Hercules to take cargo and about 36 other passengers. The Hercules has a better chance of getting there. It has a different wing structure and can land in worse weather conditions than the Starlifter. We'll see...it's been a long week for the folks working at the CDC/ASA offices. Talk to you tomorrow!
Betty :)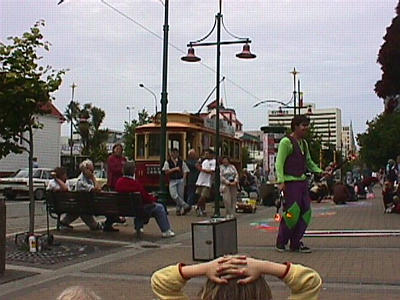 A scene from Christchurch, near the arts and crafts flea market...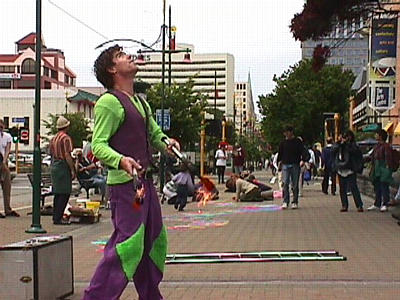 Besides the arts and crafts...there was entertainment. I sat and watched this juggler for awhile.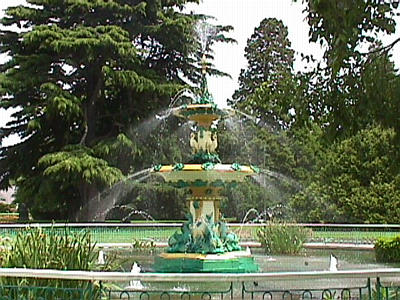 A scene from the Christchurch Botanical Gardens...
---
Contact the TEA in the field at .
If you cannot connect through your browser, copy the TEA's e-mail address in the "To:" line of your favorite e-mail package.