25 October, 1998
Sunday, October 25, 1998
Hi! Well, the good news today was that TWO planes made it to McMurdo. A C-141 Starlifter took off first this morning. It had a few passengers, but was mostly cargo. They desperately need to get cargo into McMurdo at this point. The second plane, a C-130 Hercules, left around 1:30 PM which means it didn't get into McMurdo until 9:30 PM at the earliest.
Let me tell you a little about the Hercules plane...it is quite important in Antarctic travel and science support. First used in the Arctic in 1956 (the year I was born), it was introduced into Antarctic travel in 1960. Two ski-equipped Hercules airplanes were used to transport 9 geologists and 10 tons of equipment to a remote site, about 1,300 miles from McMurdo Station.
Because of its ski-equipped landing gear, the Hercules can land on snow or ice surfaces. This allows parcticipants in the U.S. Antarctic Program to study regions that are far away from the 3 U.S. stations. The Herc can carry up to 35,000 lb. of people and/or cargo. Its wing span is 132 feet. The cargo area is about 40 feet long by 10 feet wide by 9 feet high...and can by used to accomodate pallets, air-drop bundles, vehicles, and rolling stock. It is manufactured by Lockheed Martin, and is powered by 4 Allison Turboprop T56-A-15 engines. It can carry 61,308 lb. of fuel. What a plane!
New York Air National Guard is currently in the process of taking over operational control of the LC-130's from the U.S. Navy. By March of 1999 (the end of this field season) they will be the sole providers of air support for both the Antarctic and the Arctic science programs. That is quite a responsiblity, isn't it?
Last season, despite record-setting wild weather (58% of the flights had to be cancelled), the Hercules flew 234 flights from McMurdo Station to South Pole Station. All total, they moved about 5.3 million pounds of pay-load in less than 100 days! Can you imagine having the job of loading/unloading all of the cargo at McMurdo or South Pole Station? I certainly can't!
I just hope that soon, very soon, I will get the chance to fly on one of these cargo planes...either the Starlifter or a Hercules. My paleomag science team left on today's flight and I'm glad they finally made it to McMurdo. The core samples are due into McMurdo any time now, and Gary, Fabio, and Leo need to be ready to start making measurements. I am anxious to get there and help out!
Today I spent the day doing a variety of things. Started off with something boring--laundry. Never thought I'd be here in Christchurch long enough to do laundry. I finally left the hotel around 10:00 AM and headed out of town on the motorway going north. I bought a New Zealand atlas so I could become more familiar with my route choices...a great idea, because I got off on a smaller road and had a chance to see more of the countryside! I ended up in Hanmer Springs...which is a resort town about 2 1/2 hours from Christchurch. It was a pretty little place, although a bit commercial for me. Still, I walked around town awhile before starting back to my home base.
Back in Christchurch, I met Sonia and Mauro (the last two Italians left here from the Cape Roberts Project). We had dinner at their hotel and it was a blast! I love talking with them...especially Sonia. She kept her Italian/English dictionary handy the whole time... and she was constantly looking up Italian words to see what the English translation was. She told me that she doesn't like to speak English...but I thought she did a great job! It's fun to see how phrases and ways of saying things vary between countries...not just the basic language, but what they really mean. Hard to explain to you unless you've tried to communicate with someone from a different country before. It was a fun evening!
I headed back to the Commodore, packed my bags and got ready for our flight tomorrow morning. I hope this time it goes! It will be a week tomorrow since I arrived here in New Zealand. The time has flown by and I feel like I've seen and learned a lot. Talk to you tomorrow!
Betty :)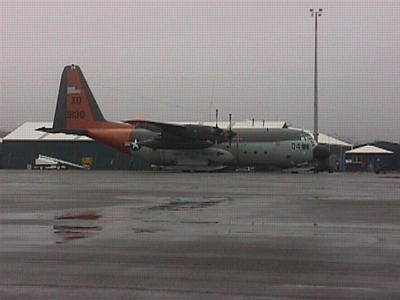 Here's a C-130 Hercules...a very important part of Antarctic travel and science support.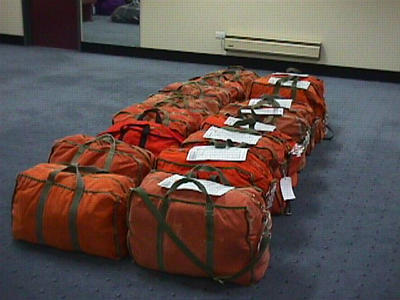 When I stopped into the CDC today, I saw more orange duffles all lined up waiting for a new group to go through the "clothing procedure."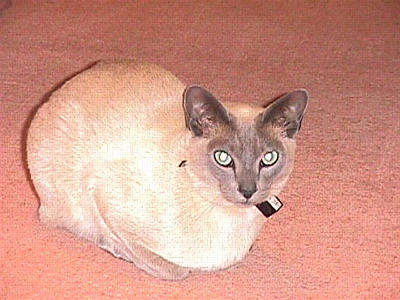 My goodness...I've been here so long that I've got a new buddy....Ken, the hotel cat. He actually followed me to my room and came inside. Kind of reminded me of home in a way.
---
Contact the TEA in the field at .
If you cannot connect through your browser, copy the TEA's e-mail address in the "To:" line of your favorite e-mail package.