1 November, 1998
Hi everyone! I sure have a lot to report to you tonight. Yesterday after I left the computer lab, I checked back into our office in Crary Lab (same building) and I ended up working with Fabio for awhile. He showed me how to use the spinner magenetometer. He was using this machine to measure the magnetization of samples Gary had given him from New Zealand. Like the machines Ken Verosub had me working on in the lab at UC Davis, there were a ton of little steps in the process of measuring the samples. I have to be sure to put the samples in the device facing a certain direction, and they are rotated after each measurement. A computer is fed the information directly from the magenetometer, and later we print out the results.
Tomorrow morning we have a meeting about the Cape Roberts Project first thing...this involves about 36 people. New core will be arriving from the drill site, and the scientists plan how they will share this core and take turns getting their samples. We have several meetings tomorrow on the project...should be a busy, but informative day! Looks like we will finally get into the lab to work on paleomag, which is what I have been waiting for.
Last night after I left the lab and ate dinner, everyone was getting ready to go over to the Halloween dance/party at the "gym." It was a little like when I was in high school going to the school gym for a dance. Lots of people had costumes...some quite creative. I think I did get a couple of pictures I can show you! The dance was FUN and we all stayed out late. The strange thing was that when I left the party at 12:30 in the morning to go to the galley to get a snack, it was FULL daylight. I still can't get used to that. I did sleep with my black night mask on. Thought I wouldn't need it, but it did help. I felt a little funny with that thing on my head all night.
Today almost everyone I know slept in...everyone was out late last night. I went into the lab to check on things and met up with Leo. We decided to walk over to the New Zealand base, called Scott Base, after lunch. It was another beautiful day in McMurdo..sunny, and not too much wind at all. Fulvia (another one of the Italian scientists on the Cape Roberts Project) and Leo and I started the 2 mile hike to the Kiwi base about 2:00 PM.
The dirt road to the Kiwi base is a winding, hilly one. The base is located on Pram Point, on the southeast side of Hut Point Peninsula. Pram Point was named during Robert Scott's "Discovery" expedition because to get there from the Ross Ice Shelf in summer the men used a small boat, known as a "pram." So many names of places nearby were given those names by early explorers of the continent. The names most often have to do with people, boats/ships, and special events.
Scott Base is much smaller than McMurdo Station. It can house about 70 people in the summer, and about 11 people who winter-over in Antarctica. The buildings are neatly arranged, and are a lime green color. We really only went inside the building with the Scott Base store, and I'm counting on Gary (my NZ teammate) to show me around the base at a later date. This was the first day that their store was open, and judging by the crowds of people who walked or took the shuttle over to the Kiwi base today...what they have in their store won't last long.
Just outside the store is a sign that indicates that the base is located at about 77 degrees south latitude. There is also a sign that indicates how far Scott Base is from other places in the world. Not far from the base...down where the sea ice begins...there were pressure ridges of ice that had been pushed up and were standing almost vertically. This happens when cracks in the ice get pushed back together and the pressure results in some of the ice being pushed upward. These ridges were beautiful...and I took lots of photographs. Another neat thing was that two Weddell seals had come up through a hole in the ice and were lounging around. We hiked on the trail marked with flags for safety, and we were able to see it up close. At one point the seal used its front flipper to sort of scratch its face. It's nice that they move a little bit every once in awhile so you can tell they are alive. Otherwise they look like brown blobs on the ice.
There is another way to get to Scott Base to/from McMurdo right now. It is a trail which winds around Cape Armitage and is on the sea ice. The trail is marked by flags so that people out hiking know where it is safe to walk. We must be very careful NOT to go off this marked trail because of crevasses...cracks in the ice, and weak spots where we could fall through. I know I will be learning more about these trails and safety when I attend "Happy Camper" (survival) school on Tuesday.
Leo, Fulvia, and I slowly made our way up the steep road that left Scott Base, and soon it leveled out and I could breathe a little easier. It's hard to hike when you are wearing so much gear. I didn't have my Bunny Boots on..you don't really need them when you are walking around McMurdo or on the dirt road. Those boots are used more in the field. Layers are still important though, and as we hiked up the hill I could regulate my temperature by zipping and unzipping my fleece jacket under the parka. With the bright sunlight I am finding it absolutely essential to wear my sunglasses each time I leave a building.
Returning to McMurdo, (sometimes referred to as MacTown), it was more obvious to me the differences between it and Scott Base. McMurdo has a summer population of nearly 1,200 people...and can accomodate nearly 200 in winter. The station covers close to 4 square kilometers and has more than a hundred buildings. The structures are all built on short stilts, and all of the power, phone, sewer, and water lines run above ground. This base was established back in 1956...the year I was born. McMurdo Sound was named after Lt.Archibald McMurdo who was on the ship "Terror" with James Clark Ross in 1841.
Well, that's it for this evening. I am headed back to the dorm to sleep because I know I have a busy day tomorrow. Talk to you then!
Betty :)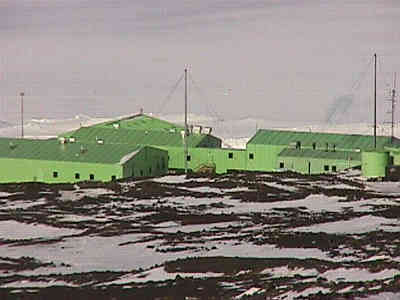 Here's the Kiwi (New Zealand) base~~called Scott Base. It's about 2 miles from McMurdo Station.

Near Scott Base there are pressure ridges of ice that have been pushed up into beautiful formations.

Now here's a form of transportation that I never expected to see in Antarctica !!
---
Contact the TEA in the field at .
If you cannot connect through your browser, copy the TEA's e-mail address in the "To:" line of your favorite e-mail package.