2 November, 1998
Monday, November 2, 1998
Hi! Today I got up early and headed over to Crary Lab for meetings. It was much colder and windier today, and I closed the window in my dorm room for the first time since I arrived here last Thursday. I really had to bundle up this morning...snow/wind pants, heavy gloves, and the BIG red parka! It was the first time I've worn the down parka! So far I've gotten by with my lighter parka and a fleece jacket under it. That down parka is HUGE!
This seems like a good time for me to explain the various "weather conditions" experienced in McMurdo and certain restrictions and precautions that go along with them.
Condition III
~~ sustained winds less than 48 knots
~~ wind chill higher than -75 degrees F
~~ visibility greater than 1/4 mile
During Condition III routine safety precautions are to be exercised.
Condition II
When one of the following criteria is forecast to occur within one hour:
~~ sustained winds of 48-55 knots
~~ wind chill of -75 to -100 degrees F
~~ visibility 1/4 mile to 100 feet
During Condition II pedestrian traffic is limited to McMurdo town complex (downtown and industrial area). Traffic outside of McMurdo requires approval. All travel must be in radio equipped vehicles. All vehicles must check in/out with Firehouse Dispatch.
Condition I
When one of the following criteria is forecast to occur within one hour:
~~ sustained winds exceed 55 knots
~~ wind chill lower than -100 degrees F
~~ visibility less than 100 feet
During Condition I, all personnel shall remain in buildings. Any esential or emergency travel requires approval. All approved travel must be in radio equipped vehicles. All vehicles must check in/out with Firehouse Dispatch. All travel must be with a minimum of two persons.
***I liked the "extra" condition that was handwritten on the notice I found in Crary Lab: "Condition 4: Too nice to work--go skiing!"
Since arriving in McMurdo, the weather conditions have been considered a 3 each day...maybe even a 4! Today was colder and when I went to dinner tonight I sat with some of the guys who are welding the new JP-5 fuel tanks. They said that the wind chill did get down to -70 degrees F and later WARMED up to about -50 degrees F. The visibility was good all day. I hope that the weather doesn't change dramatically before I attend "Happy Camper" school tomorrow and Wednesday.
Today was a day of meetings for the Cape Roberts Project. There are about 36 people altogether on the entire team and we met first thing this morning to talk about the core sample that was brought into the lab most recently. After a brief discussion we were able to go into the core sampling room and take a look at the core. It looked different than I expected, partly because I though that the curved side of the core would be facing upward. In fact it was the flat side (where the core had been sliced in half) that was facing up. This made sense to me, because then it would be easier for the scientists to take their samples. Gary also told me that if you looked at the curved side, it would have marks on it from the drill.
Since these early samples are loose bits of sediments compared to what we will see later, our group will not be drilling our samples out of the larger core. We will use small, clear, plastic containers to hold the sediments together. They look a lot like the small magnifying boxes we sometimes use in school, called "bug boxes."
The cores samples came in large trays, with three rows of core in each tray. Each tray was a little over a meter in length. I have included a photo to give you an idea of what I'm talking about. All of the different teams of scientists took a close look at where they wanted to take individual samples, and they used small flags to mark their spot. These samples will be taken later.
After lunch we had another meeting with Peter Barrett (one of the chief scientists of CRP) presiding over the first half of the meeting. Peter Barrett has been working out at the Cape Roberts drill site. Peter Webb (the other chief scientist of CRP) is our main contact in McMurdo. Peter Barrett talked about the last week of drilling and the prognosis for future drilling. He discussed various procedures and problems they have experienced at the drill site. He also mentioned several special visitors who will be out at the site, and spoke about the status of the scientific research volume being prepared. This report covers the findings of the project.
The team I'm working with, the paleomag team, is made up of Ken Verosub, a researcher and geology instructor from UC Davis; Gary Wilson, who has been a researcher with the Byrd Polar Research Center at Ohio State University (as well as an instructor in the geology department); and Fabio Florindo and Leo Sagnotti, both from the Istituto Nazionale Di Geofisica, Rome, Italy, where they research paleomagnetism and rock magnetism.
I had my first lesson in Italian today from Giuliana Villa...one of the other scientists from CRP. She is going to e-mail me a lesson each day. Today's lesson was pronunciation of Italian vowels. This will be FUN!
Giuliana, Leo and I went over to the gym to work out before dinner. It was the first time I had seen the workout room. There are lots of machines to choose from...treadmills, bikes, rowing machines, a stair climber, and others. Since it was too cold today for a long hike, this was a nice alternative.
I have to go back to my dorm room early tonight and pack my bags for survival school tomorrow. I got an e-mail message that gave a list of what to pack. Basically we need to bring ALL of our ECW gear and a few extra items. The course includes instruction all day tomorrow, camping out tomorrow night, and returning to McMurdo on Wednesday afternoon. I have been looking forward to this for months!
I will be in touch with you after I return from the field. Have a good day wherever you are. Stay in touch.
Betty :)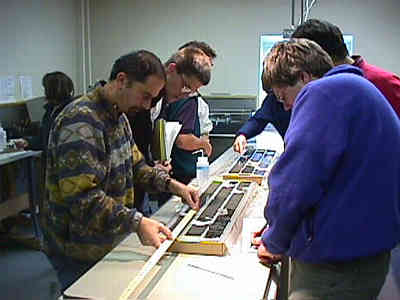 Leo ... talking a measurement of where our flags are placed.

Gary (left) and Fabio, looking over the core to see what samples they will take.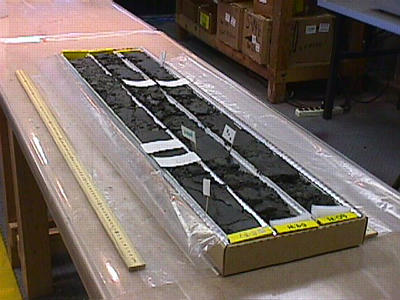 Remember when I was talking about the tray containing core samples? Here's what it looks like.
---
Contact the TEA in the field at .
If you cannot connect through your browser, copy the TEA's e-mail address in the "To:" line of your favorite e-mail package.