2 December, 1998
Wednesday, December 2nd, 1998
Hi! It was cold here today…I even resorted to wearing my heavier parka around town. The wind gets blowing around here and you have to bundle up! I walked over to Crary Lab this morning and got an early start. I finished re- packaging the heated and measured samples before lunch. After lunch I tackled the HUGE job of sorting out the remaining samples, re-packaging them into the small plastic bags and then placing these (in order, in trays) in the circular magnetic shields. The shields protect the samples from the Earth's natural magnetic field and they also keep out stray magnetic fields. This keeps the samples more accurate. In the past two days, I have re-packaged about 1,000 samples!!
I spent some time today down in the aquarium at Crary Lab. I talked with the scientists/ divers who work in this part of the lab. They are studying animals that live on the sea floor for the effects of pollutants. They study invertebrates…animals without backbones. When I visited them they were performing a very stinky task…using a sieve (strainer) to sift out the animals from the mud found on the sea floor. One of the guys (Jon) said that their major finding for today was that "mud stinks!" I believe it…what a smelly task! On this science team: Hunter and Jon (from University of North Carolina at Chapel Hill), Stacy and Christian (from Monterey, California), and Kathy (from the Canadian Museum of Nature). It is great how so many science teams are made up of individuals from various locations working together cooperatively.
These divers spend time away from McMurdo, setting up field experiments using trays of treated sediments and the organisms that inhabit McMurdo Sound. Back in the lab, they analyze and record results. They are not the only ones who use the aquarium. There are tanks of fish being used by biologists, larger tanks with huge Antarctic Cod fish, and one small tank (the one I love!) with sea urchins, sponges, sea stars, fish, and other sea creatures.
I switched gears a bit and walked over to the Fire House (Fire Station). Two men were washing one of the fire trucks, and I thought this might be a good time to stop in for a visit. I was pretty surprised by what I learned. First off, there are 43 firefighters and 4 dispatchers working in McMurdo during this summer season. I had no idea that there were that many people involved with this department. I spoke with Lt. Shonda Murray and she gave me a ton of information. This is her second season in McMurdo, and back home in Columbia, Missouri she is a volunteer fire fighter and works for an ambulance service.
All of the men and women who work at the fire house are fire fighters back home. To apply for a position here they are required to have a Fire Fighter I and II license and have to be EMT (Emergency Medical Technician) certified. They either sign a 6 month or full year contract…and 28 fire fighters winter over (or stay here during the Antarctic winter). Many of the people who work here are wildland fire fighters back home…and most of the firefighters are from Colorado. There are also 4 from Missouri, 3 from Nebraska, 2 from Iowa, and 1 from California.
On each 24 hour shift (8:00 AM-8:00AM) there are 9 people working in the fire house… 4 tanker, 4 engine, and 1 ambulance. There are also 6 working out on the ice runway. The fire fighters bring their clothes to the fire house, and really live in two places here in McMurdo. They sleep at the fire house when they are on duty, and there are 5 rooms upstairs to accommodate them. All of their gear is stored on wooden shelves inside the fire house, and can be grabbed at a moment's notice. I asked how many fires they have per year and I was told that they haven't had a major fire in three years. They have small emergencies and even while I was there some people were scurrying around because they had to get out to the ice runway. A plane was coming in with no hydraulics, and the emergency crews were being dispatched "just in case."
They have 1 tanker truck, and 2 engines (although one is kept in reserve). The tanker holds more water…3,500 gallons, and can pump 1,000 gallons of water per minute. There ARE fire hydrants around McMurdo…4 of them. Another neat piece of equipment is called the "Crash Trucks." These are REALLY called ARFF (Airport Runway Fire Fighter) trucks. They look like giant fire extinguishers…and that's what they are. In a huge emergency, they could even be used here in McMurdo. What a neat visit this was!
Another busy day here "south for the summer!" Talk with you tomorrow.
Betty :)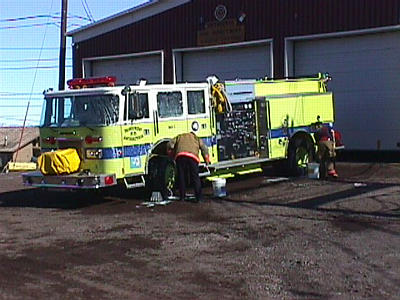 At the McMurdo Fire House...keeping those trucks clean in this muddy town must be a chore!

(left to right) Jon, Hunter, and Kathy....all divers and scientists studying tiny invertebrates of McMurdo Sound.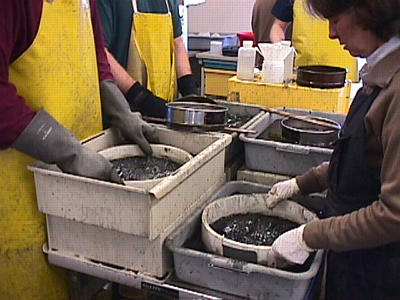 When I walked into this room at the aquarium...the smell was horrible. This shows how they sieve (strain) the tiny animals and mud.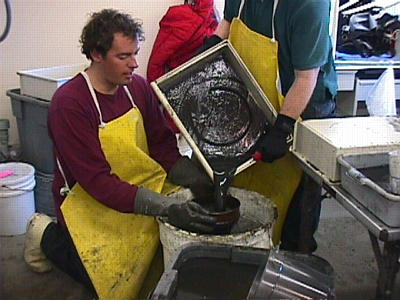 Notice that Jon wears a plastic apron and gloves while working in the lab. It's a messy, smelly job!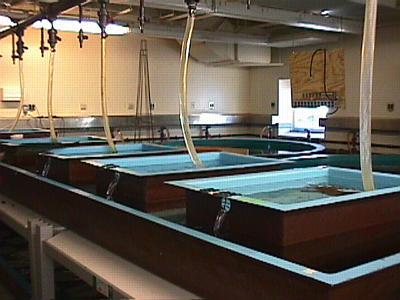 Here are some of the fish tanks in the aquarium. Each tank holds smaller fish used in experiments at Crary Lab.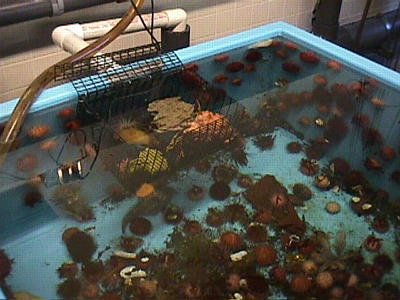 I couldn't count the number of sea urchins in this tank! Along with the urchins there were sponges, small fish, sea stars and lots of other creatures!

Lt. Shonda Murray, from Columbia, Missouri...thanks again for the information. She is shown here with some of the gear that the fire fighters wear here in McMurdo .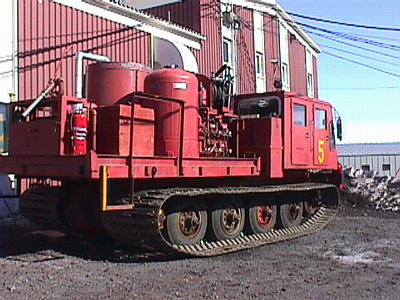 This is the "crash" truck used at the ice runway. It is like a giant fire extinguisher.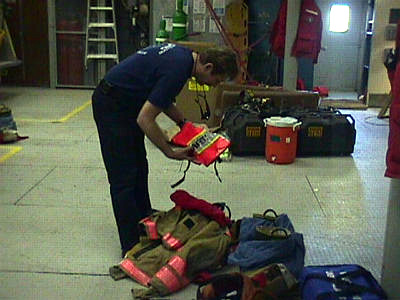 This fire fighter was preparing his gear for a trip to the ice runway. They were leaving shortly to meet an incoming Hercules flight. The plane had damaged its hy draulic system doing "ski drags" while preparing for a new temporary remote runway (near the site of a field camp).
---
Contact the TEA in the field at .
If you cannot connect through your browser, copy the TEA's e-mail address in the "To:" line of your favorite e-mail package.