14 December, 2001
Well, we've been hut bound before, but today was the "real deal." The strongest gust we noted was 67 knots (77 miles per hour) and it stayed between 50 and 60 knots most of the time. The temperature was between -25 and -30 (C). Visibility was just about 10 feet most of the time--a real white-out. Imagine standing on the hood of a car as it goes down the highway at 65 miles per hour at 22 degrees below zero (F) in a thick, grainy snow. You have to lean into it, and exposed skin gets raw quick. Its not easy to stand up. I've read that conditions like this can actually polish rusty metal, like sand blasting. That's partly because the snow is not in flakes, its in icy little nuggets.
Going out to check my tent in the evening was actually a bit nerve wracking. You have to go from one visible marker to the next. I woke up to this, and two good samaritans who had gotten up earlier set out ropes tied between ice axes in the snow that led back to the hut. Wow. Now this feels like Antarctica.
Half of my crystal stuff got blown away in the storm. I was keeping it outside (it has to be the same temperature as the snow). I have enough left to do something, anyway. It was in a stout wooden box with a lid, but there was no weight on top of it.
It's 11:30 PM, and no sign of letting up. We'll see what tomorrow brings. I'll put off the trip to the tent for quite a while tonight....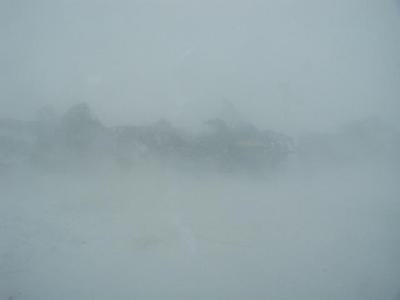 These snowmobiles are twelve feet away. They are intermittently visible and not visible.


There are two people missing in this stuck-together pair of photographs showing our 16' X24' hut. Weathering the storm...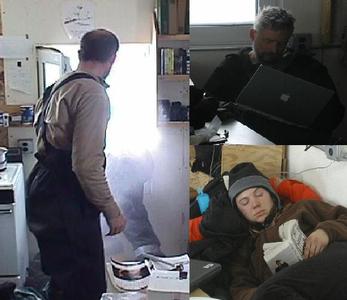 The indoor life: Left: Rich Esser leans out of the window to retrieve a block of snow which he hands to me to transfer to the melting pot. Top right: Bill McIntosh works something out on his computer. Bottom Right: Emily Desmarais fails to read.
---
Contact the TEA in the field at .
If you cannot connect through your browser, copy the TEA's e-mail address in the "To:" line of your favorite e-mail package.