17 December, 2002
From Maine to New Zealand
Christchurch New Zealand has been the last stopping point for those going to Antarctica by way of McMurdo station for a long time. It's over 9,000 miles from Maine and after multiple flights I have spent about 20 hours in the air. The journey began Sunday morning but now it's Tuesday and I'm in New Zealand. The route was from Portland to Chicago to Los Angeles. Then an all night flight transiting the huge Pacific Ocean and crossing the International Date Line to get to Auckland in northern New Zealand and finally one more flight to get to Christchurch in the south on Tuesday morning.
In Los Angeles I was able to meet up with several other members of the team: Karina, Amanda, and Taber. Sarah was already in Christchurch. She's originally from New Zealand and has been here for the last couple of weeks visiting her parents. Professor Bruce Marsh will be down later. Since he's been to Antarctica so many times he won't need the same training we will once we get to McMurdo.
Once we arrived in Auckland around noon Vanessa, a representative from the U.S. Antarctic Program greeted us. She had our lodging information for the night and told us we would need to be at the Clothing Distribution Center (CDC) tomorrow at 9am for our ECW (Extreme Cold Weather) gear issue. We are scheduled to fly to McMurdo tomorrow at 2pm. Many recent flights have been canceled or turned back (weather, aircraft issues, etc). It would be unusual if we were able to make it out tomorrow. This would let us have the afternoon to look around Christchurch and more importantly try to get used to having just flown through 18 time zones. Sarah was an excellent tour guide as she's very familiar with the area.
Want to figure out what time it is in Antarctica? By agreement McMurdo (and the rest of the continent) is on the same time zone as New Zealand. So look at the clock, add 24 hours, and then subtract 6. That's right, 18 hours ahead of Yarmouth, Maine which probably also means the next day! If you're in the morning Calculus or Science class with Mr. Pride and it's 9am then it's 3am (the next day) where I am!
Tomorrow we try to go to the ice!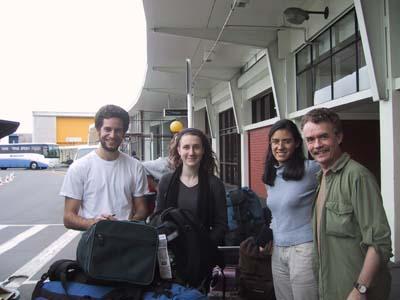 1. Welcome to Christchurch, New Zealand (L to R: Taber Hersum, Amanda Charrier, Karina Zavala, Mike Weiss)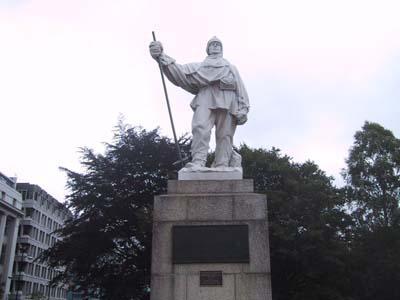 2. This statue of Captain Robert Falcon Scott in downtown Christchurch commemorates his contributions to polar exploration. In parcticular his 1911-12 expedition in which he reached the South Pole but perished on the way back with several other men.
---
Contact the TEA in the field at .
If you cannot connect through your browser, copy the TEA's e-mail address in the "To:" line of your favorite e-mail package.