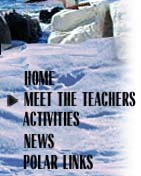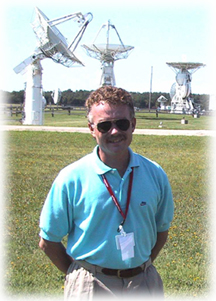 Mike will be working in remote field camps while he is in Antarctica. This means that communications may be intermittant and Mike may not be able to respond to emails right away.



Hi, I'm Mike Weiss. I teach Science and Math at Yarmouth High School. Yarmouth is a small town on the Maine coast just a few minutes north of Portland.

I grew up near Detroit, Michigan, earned a bachelor's degree in engineering from the U.S. Naval Academy and had a career in the Navy mostly flying airplanes. After I retired in 1995 I entered a teacher education program through the University of Southern Maine. My internship was at Yarmouth High School and I was hired before the program was over.

I live in Brunswick with a golden retriever named "Buddy" (a knucklehead) and my wife Kathy (not a knucklehead). Our son, Robbie, is a polymer engineering student at the University of Akron. Kathy and I knew that we wanted to live in Maine after the Navy because I had two tours in squadrons at the Naval Air Station in Brunswick and we loved it here.

Maine is a great state for outdoor activities. I enjoy hiking, fishing, canoeing, running, skiing, and scuba diving. During past summers I have been involved in Earthwatch activities which both involved scuba diving: one in Bermuda doing research on a one hundred year old Scottish shipwreck and another helping collect data on Damselfish in Barbados.

The opportunity to go to Antarctica is very exciting because it will give me the chance to become involved in scientific research that will have a direct impact in the classroom.






The Ferrar magmatic-system, Dry Valleys, Antarctica.
Bruce D. Marsh, Johns Hopkins University.
Earth's basic structure was formed by processes involving the crystallization of magma (molten rock). Operating on billion-year time scales, these processes have produced a wide diversity of rock types. In turn, these different elements comprise the continents and the ocean basins the basic surface features of Earth. Yet many of the details of these physical and chemical processes remain obscure.

Present day volcanism exemplifies this overall process of differentiation - so many different varieties of lava erupt - yet scientists have not been able to relate this diversity to the prolonged and detailed deep-Earth processes that undoubtedly generate it. Solidified bodies of magma (plutons) that were once deeply buried and are now exposed through erosion also furnish evidence, but most often how these plutons relate to the magmatic-volcanic system is not clear.

This research is pointed at this fundamental problem: We will examine magma crystallization processes by studies of sills from the Ferrar Group in Antarctica. These studies should expose the relationship of plutonism to volcanism and may provide some important insights on planetary magmatism. The Ferrar magmatic system of the McMurdo Dry Valleys, Antarctica (Ferrar-DV) exemplifies the emerging global paradigm. Magmatic sheets or sills occur in stacks, connected below to a deep-seated magmatic source and above to a volcanic center.

The world's major magmatic systems reveal this pattern, as they tend to occur at ocean ridges (e.g., Kilauea, Mt. Etna, Stillwater, and Rum, among many others). Only the Ferrar-DV, however, clearly reveals the critical physical and chemical connections between the deep, mush-dominated system and the near-surface, pre-eruptive sill system.

This project seeks to ascertain the full physical and chemical nature of the Ferrar-DV magmatic system, by:
fully delineating its vertical and horizontal extent and explaining how it was established
explaining the mechanics of formation of the Dais layered intrusion;
producing a map of Ferrar rocks throughout the Dry Valleys; and
producing a 3-D model of the opx tongue and feeder system.
The central science goal is to elucidate a rarely seen transition between plutonic and volcanic systems, one which may have implications fundamental to planetary magmatism. (GO-056-O)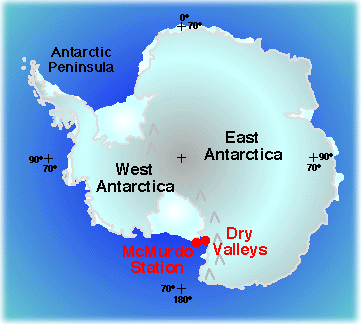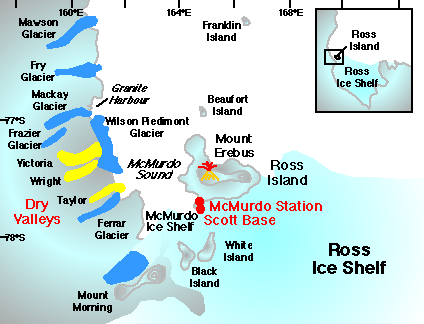 Mike will be working at remote locations while in Antarctica and may not be able to post a journal everyday. Please keep checking for updates from the field!
January 2003
December 2002
November 2002
| | | | | | | |
| --- | --- | --- | --- | --- | --- | --- |
| Su | Mo | Tu | We | Th | Fr | Sa |
| -- | -- | -- | -- | -- | 1 | 2 |
| 3 | 4 | 5 | 6 | 7 | 8 | 9 |
| 10 | 11 | 12 | 13 | 14 | 15 | 16 |
| 17 | 18 | 19 | 20 | 21 | 22 | 23 |
| 24 | 25 | 26 | 27 | 28 | 29 | 30 |
October 2002
| | | | | | | |
| --- | --- | --- | --- | --- | --- | --- |
| Su | Mo | Tu | We | Th | Fr | Sa |
| -- | -- | 1 | 2 | 3 | 4 | 5 |
| 6 | 7 | 8 | 9 | 10 | 11 | 12 |
| 13 | 14 | 15 | 16 | 17 | 18 | 19 |
| 20 | 21 | 22 | 23 | 24 | 25 | 26 |
| 27 | 28 | 29 | 30 | 31 | -- | -- |
March 2002
| | | | | | | |
| --- | --- | --- | --- | --- | --- | --- |
| Su | Mo | Tu | We | Th | Fr | Sa |
| -- | -- | -- | -- | -- | 1 | 2 |
| 3 | 4 | 5 | 6 | 7 | 8 | 9 |
| 10 | 11 | 12 | 13 | 14 | 15 | 16 |
| 17 | 18 | 19 | 20 | 21 | 22 | 23 |
| 24 | 25 | 26 | 27 | 28 | 29 | 30 |
| 31 | -- | -- | -- | -- | -- | -- |
August 2001
| | | | | | | |
| --- | --- | --- | --- | --- | --- | --- |
| Su | Mo | Tu | We | Th | Fr | Sa |
| -- | -- | -- | 1 | 2 | 3 | 4 |
| 5 | 6 | 7 | 8 | 9 | 10 | 11 |
| 12 | 13 | 14 | 15 | 16 | 17 | 18 |
| 19 | 20 | 21 | 22 | 23 | 24 | 25 |
| 26 | 27 | 28 | 29 | 30 | 31 | -- |