22 December, 2002
Ob Hill
It's Sunday in McMurdo so we are having a day off. Taber and I decide to hike up Observation Hill which is on the edge of town. "Ob Hill" as it's called around here, is only 750 feet high but is pretty steep in some sections. It consists primarily of volcanic rock. About half way up the hill are buildings which housed a nuclear power plant that was constructed in late 1961 and went into operation in the March 1962. In 1972 it was shut down and dismantled and returned to the United States.
As we continue up the side of Ob Hill, the views become more and more breathtaking. We have an excellent view of McMurdo but now can see the mountains in the vicinity and can get a better idea of how McMurdo is nestled in a bowl that leads to the Sound. At the top of the hill is a great wooden cross which stands over 9 feet out of the rocks. A bronze plaque reads, "This cross is an historic monument and preserved in accordance with the provisions of the Antarctic Treaty. It was erected in January 1913 to commemorate Captain Scott and his party who lost their lives on their return journey from the South Pole in March 1912." Members of Scott's last expedition who did not accompany him to the Pole erected the cross. It took them two days to carry it to the top of the hill. The cross bears the names of those who were on the polar party and also the last line from Tennyson's poem Ulysses: "To strive, to seek, to find, and not to yield."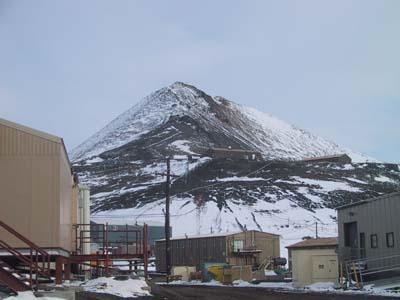 1. Observation Hill or "Ob Hill" viewed from McMurdo Station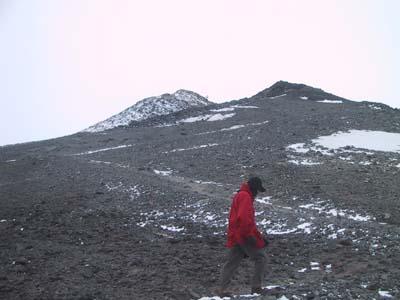 2. Taber on the way up Ob Hill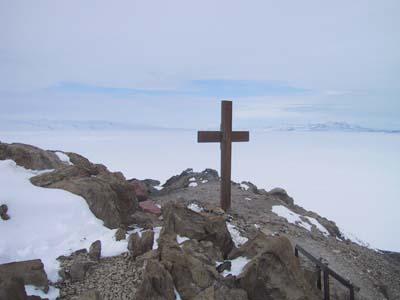 3. The massive cross atop Ob Hill serves as a memorial to Robert Scott's polar expedition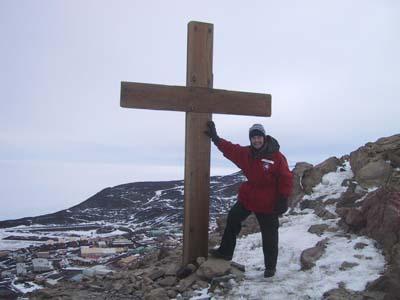 4. Me at the summit of Ob Hill with McMurdo Station in the background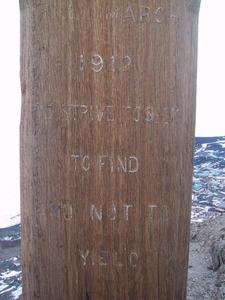 5. The inscription from Tennyson


6. A panorama from the top of Ob Hill
---
Contact the TEA in the field at .
If you cannot connect through your browser, copy the TEA's e-mail address in the "To:" line of your favorite e-mail package.