23 December, 2002
More Field Preps
Going out to the field will be a big task because of the preparations required. During the month of January we will be in the Dry Valleys for three weeks and won't be coming back and forth to McMurdo. While there are some base camps set up in various areas of the Dry Valleys, ours will consist of only what we bring to Bull Pass. In other words, we need to be sure we bring the right equipment and that the equipment has been checked ahead of time to be sure it works. A sleeping bag with a broken zipper, a backpack with a missing strap, or a stove that leaks needs to be identified before we go to the field. We will "pre-flight" everything before leaving McMurdo. We have divided up the responsibilities for equipment, procedures, etc. among our group. We also assign more than one person to each area so that we have an extra person covering each responsibility. Because of my Navy background I will be primarily responsible for radios and helicopters operations. There are a number of people on the station to visit for briefs and procedures and everyone I've talked with has been very helpful, organized, and knowledgeable.
Today, Sarah and I visit the helo hanger to talk to Mike McClanahan about operations and requesting helicopter support in the field. We are going to use the helicopters to get all of our equipment, including us, to the field so we need to know what the rules are. We spend an hour talking with Mike. Sarah needs to go to another appointment about the procedures for drawing the food stocks we'll need so Mike and I finish up by heading over to the passenger terminal to discuss what the check in procedures will be like on our first flight day.
Later, we all work together at the Berg Field Center (BFC) where Taber and Amanda have been continuing to inventory the equipment that has been previously requested. We have a "cage" set aside in the BFC for storing our field equipment including survival bags which we learned about at snow school. Not only is the equipment inventoried but Taber and Amanda are making sure it's in good condition. A good chunk of time is spent by all of us putting together the large "Endurance" tents we will use. In the field, Taber and I will share one along with the cooking gear. Sarah, Karina, and Amanda will be in the other Endurance tent. Bruce (who should be here in a little over a week) will use a Scott tent. The Scott tents are the big yellow pyramid shaped ones you saw in the snow school journal entry. Bruce will be by himself but will need space for the maps, charts, and other reference material essential to the geology project.
We have another excellent meal at the galley and return to set up the Endurance tent that the ladies will use. The Endurance tents are pretty big. Ours will measure about 8 feet by 16 feet and the women's tent is about 8 feet by 21 feet. You can easily stand up inside and walk around. Taber and I joke that they are like circus tents but they should be a bit cozier when we start putting gear inside. They're very strong and have an internal liner which essentially makes it a double walled tent. We will have cots and tables going in. The sleeping bags are known as "Arctic Storms" and we used them at snow school. Very comfortable. There's also a fleece liner and thermarest air mattresses that we'll be using. For Davis A., whose family does a lot of winter camping, I think you would approve. By the way Davis, we have camping chairs as well.
We are setting the tents up indoors and it's good practice to see how all the poles and fasteners go together. The largest tent needs a little minor patching here and there so we'll leave this one up. One of the folks at the BFC will take care of that for us during the next couple of days. If we're lucky when we get to the Dry Valleys, there won't be a lot of wind when we need to set up the tents. If there is then this could be a challenge to put up.
Karina and I test the camp stoves (we have three) while Sarah makes labels for all our gear that will be packed and delivered to the helos starting three days prior to the flight. We take all the labeled gear to be weighed and once again we are in luck when Joe, who works at the cargo warehouse next door, tells us he will help us with containerizing our gear into two large tri-walled boxes for easier shipment to the field. This is great because it means we could be finished with a major part of our field preps by the end of the day today and not have to return the equipment to the cage. It's as if we have these massive "suitcases" we can put everything into: packed and ready to go. Just to be sure, Joe arranges for one of the helicopter load technicians to come over to look over what we're doing and give us his approval. We finish the day knowing that the majority of our gear (we still have to think about food, but that's another day) will be packed and ready for what the helo folks will carry in a "sling load" beneath the helicopter the day we deploy. Between the discussion earlier in the day with Mike and what we've just heard it sounds like we'll either have two helicopters to get us set up on the first day or one that makes multiple trips. Either way things seem to be coming together nicely.
Tomorrow: Christmas Eve in Antarctica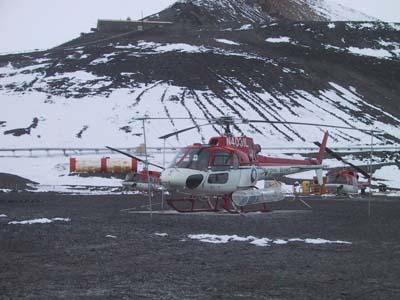 1. The station uses helicopters for logistics and to support the scientists in the field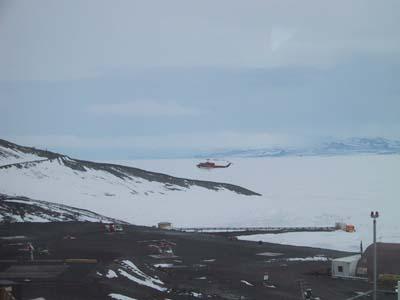 2. A Bell-212 helicopter makes an approach to McMurdo Station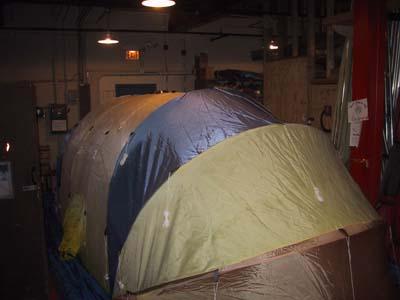 3. An Endurance tent is set up inside the Berg Field Center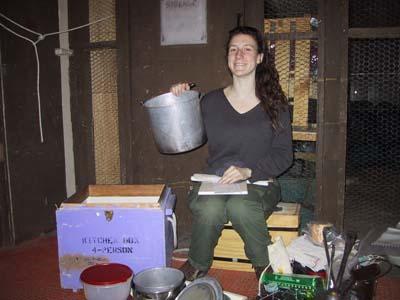 4. Amanda conducts an inventory of cooking equipment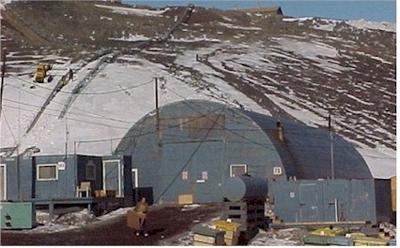 5. The cargo warehouse
---
Contact the TEA in the field at .
If you cannot connect through your browser, copy the TEA's e-mail address in the "To:" line of your favorite e-mail package.